Barnaby Joyce criticised for selling his story to the highest bidder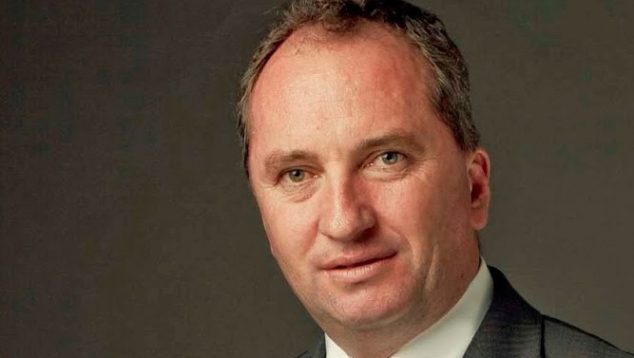 Former Deputy Prime Minister Barnaby Joyce has been criticised for accepting a rumoured $150,000 payment from Channel Seven for an interview on their program Sunday Night.
A bidding war for an interview with the politician and his new partner is believed to have erupted with Channel Seven winning the interview over Channel Nine's 60 Minutes. 
Joyce, whose long term marriage broke down after he had an affair with staff Vikki Campion will speak to the broadcaster about his new relationship and the son they pair have recently welcomed. Prior to the birth of their child – Joyce speculated that he may not be the biological father of the baby.
The affair cost Joyce his leadership position in the National Party and his job as Deputy Prime Minister. He stepped down from the cabinet and now sits on the back bench in parliament.
Joyce previously declared his personal life was "off  limits". In an interview with the ABC's 7:30 in February Joyce told host Leigh Sales that it was a private matter and he didn't think anyone profited from public discussion.
"What I want to do is make sure that private matters remain private." Joyce told Sales. "I mean, quite obviously its – I don't think it profits anybody to drag private matters out into the public arena."
It is understood that Joyce will be placing the $150,000 he earns from the interview into a trust for his son, and will still have to declare the income to parliament.
Journalists are questioning why a serving member of parliament is being paid an extraordinary large sum to appear on television.
"Why is an elected politician accepting payment for doing an interview? And why are journalists paying our politicians to talk?" asked Hammish McDonald who hosts Channel 10's The Project, and also currently helms ABC Radio National's Breakfast program.
"Its one thing for a politician to get paid to write a book after leaving politics, another thing altogether for them to participate in a paid interview whilst being already paid by the tax payer to represent constituents. Particularly, having asked for privacy." McDonald posted to Twitter.
"How hurtful this must be for his wife Natalie Joyce and their four daughters. *Insensitive* hardly covers it." commented comedian and radio host Wendy Harmer.
Sky News presenter Janine Perrett took to social media to accuse the politician of having no morals.
"Barnaby Joyce exploited taxpayers and damaged his Government with his sleazy affair and now sells story for personal gain. No morals" Perrett posted to Twitter.
Channel Ten's Lisa Wilkinson published a damning commentary on Joyce's decision on Channel Ten's new Ten Daily site. Wilkinson Joyce couldn't have it both ways.
"He can't be a working politician, still living off the public purse, with the stated job of looking after the concerns of his constituents — while running a money-making operation on the side which sees him sell the details of his behaviour while on the public teat, behaviour which horrified both his political masters and the public at large." Wilkinson wrote.
Health Minister Greg Hunt appeared on the ABC's Insiders program this morning and said the decision to accept the interview was a matter for Joyce and not a matter for the coalition.
Deputy Nationals leader Bridget McKenzie said many politicians make additional income while they are serving in parliament via writing books and memoirs.
"I don't think it's up to me to actually be making commentary on the morality of that or otherwise," she told ABC TV on Sunday. "What Barnaby Joyce and Vikki decide to do in their private life is their business."
OIP Staff
---