Bibliophile | Delicious: At Our Table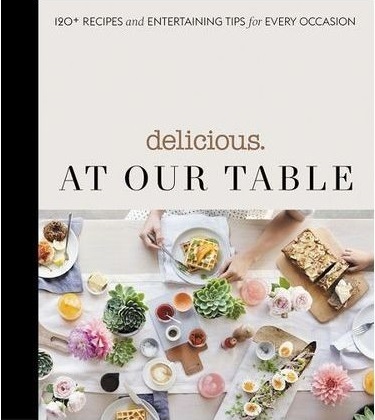 According to the team at Australia's leading food magazine delicious, no event is too small or too large when it comes to celebrating with friends and family. Inspired by food from many of their favourite restaurants, they have put together a sumptuous collection of recipes and table suggestions for every occasion.
Brunch with a tropical twist is great as weekends warm up and the year unwinds. Think pancakes made with coconut yoghurt and topped with lime and blueberries, iced coconut latte and Bircher muesli with saffron-glazed pineapple. Or more substantial offerings such as zucchini, sumac and Persian feta fritters or egg and bacon roll with fresh relish.
Then there's the long lunch that begins with an elderberry flower martini and finishes with garden-inspired desserts such as spiced parsnip and apple cakes with apple rosemary jam and cream cheese frosting or buttermilk and cardamom puddings topped with fresh figs.
The Beach Party section of recipes seems perfect for an Australian Christmas celebration. It has recipes for seafood, salads and some fancy bread with coconut chia pudding with caramelised pineapple and passionfruit syrup served in jars for dessert. The birthday section channels old school nostalgia with a selection of desserts to choose from and recipes to make old-style lollies such as musk sticks.
Easter recipes source seasonal vegetables to accompany fish, chicken and lamb dishes. Then to finish, there is a chocolate tart with hazelnut shortcrust, just in case you haven't already had enough Easter chocolate. Christmas in July is a winter feast of comfort food and traditional Christmas treats with some tweaks and the New Year's Eve section has recipes for finger food.
In between all the celebrations, you might be able to fit in a decadent Venetian style dinner party featuring pasta-less individual lasagnes, Italian meatballs in rich sauce and crepes made with slow-cooked pork. What about Nutella brûlée pots and honey and olive oil truffles to finish off? Celebrate with a hundred delicious recipes.
Lezly Herbert