Bibliophile | 'I Miss You When I Blink' blends the absurd with the profound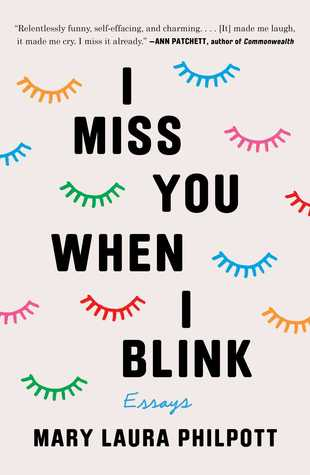 I Miss You When I Blink
by Mary Laura Philpott
Murdoch Books
Mary Laura Philpott has written for The New York Times, The Paris Review and O The Oprah Magazine, examining the overlap between the absurd and the profound in her life. In this memoir-in-essays, she shares the humour of her life's more memorable moments as well as the lessons she's learned along the way.
The Nashville resident has actually had quite a fortunate life, but this doesn't mean that she hasn't had a series of small identity crises that have made her panic and wonder how she got where she was "and if there was a way to get out".
Always ticking off her to-do list and wanting everything to be perfect is exhausting and "I succeed therefore I am" was not a mantra that was sustaining her any more. While this inherited mantra has helped her achieved many things in her life, a bout of depression made her realized that it was time to re-calibrate.
"I'm making it sound like being this way is fun, like it's a hilarious quirk. But to be clear, it's also miserable. I hate that I can't relax. I wish I didn't have a to-do list in my peripheral vision at all times. It's an exhausting way to live, but try as I might, I can't turn it off. My brain seeks tasks to check off, I's to dot and T's to cross, not to mention X's to slash, E's to loop and Z's to zag, the way a sort-of-but-not-really reformed smoker sucks in a deep lung full of nicotine when walking past a crowd of smokers outside a bar."
Sometimes, she muses that it would be good to hop into a time machine and go back and give her younger self some helpful advice, and I think many people can relate to that. As she takes the reader on the journey through her 'learning experiences', she always manages to throw in a recollection that brings a smile whether it be while volunteering, trying to find the right guy or trying to survive depression.
I love that she takes small steps to reinvent her life because rather than have one great big 'mid-life crisis' where she has to blow up her life, there are mini-crises with her love-life, her job, her kids, her location and her need to be everything to everyone. I Miss You When I Blink is entertaining as well as illuminating, giving hope to all those people who feel they are wearing a life-jumper that no longer fits them.
Lezly Herbert
---