Bibliophile | Outback horror 'The Rush' full of twists and turns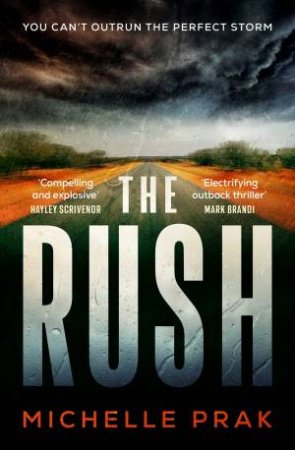 The Rush
by Michelle Prak
Simon & Schuster
After consecutive years of drought, a large storm is approaching the remote outback where four young backpackers are sharing costs to travel from Adelaide. They hadn't expected to be caught in the middle of a torrential downpour and tensions are mounting in the back of the car between the Brazilian climate activist Livia and Dutch tourist Joost.
Scott is driving his grandfather's four wheel drive while girlfriend Hayley can't believe that technology has let her down and there are blackspots where her phone won't work. Things are tense between them as well as they pass the 'Water Restrictions' sign. It is difficult to believe that the storm will bring much rain in the middle of summer.
Matt and Andrea, who run an iconic country pub, have stacked sandbags in preparation for the worst. All they have to do is remove the group of troublesome Bikers and they can bunker down with their three year-old son for the duration of the storm. Well, that was the plan before the ferocious weather threw in a few challenges.
Missing from the pub is Quinn, who works and lives with the couple. She hadn't returned from her family farm where she had lost track of time while packing up the house so that it could be sold. Just as the rain starts, she comes across an injured young man on the road.
He is unconscious and it seems as if it is not only the weather that is causing havoc. Quinn is still 90kms from the Pindarry Pub and it is a difficult decision whether to take the injured man with her.
The storylines of the four women unfold at various times before coming together as twists and turns in the narrative reinforce that the outback is just as scary as it is in horror movies …  maybe more scary.
Lezly Herbert
---

You can support our work by subscribing to our Patreon
or contributing to our GoFundMe campaign.