Bibliophile: Something new to read 'Prick with a Fork'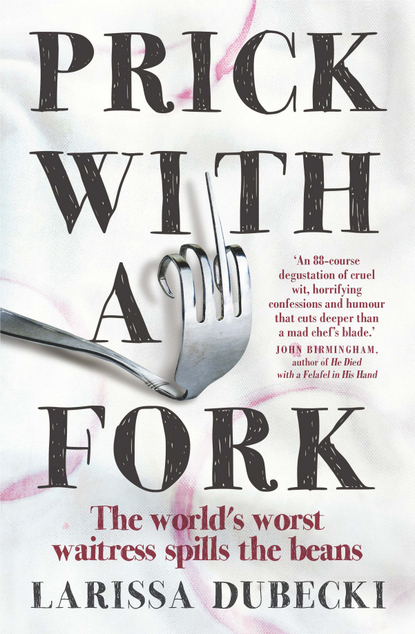 Prick With A Fork
by Larissa Dubecki
Allen & Unwin
For the last ten years, Larissa Dubecki has been a restaurant critic and food writer for such illustrious publications as Gourmet Traveller, The Age Good Food Guide and Time Out. She has also appeared in Masterchef and Iron Chef Australia but for the previous ten years, she waited tables.
Readily admitting that waiting tables was a necessary evil rather than her vocation of choice, Dubecki readily admits that she wasn't very good at being a "direct descendant of the serving class". Her thoughts are that waiting is not an activity that comes naturally, certainly not as far as she was concerned. She points out that there is nothing servile about serving but waiters are regarded as "a sub-class of humans not unlike the Morlocks in HG Well's The Time Machine".
Dubecki insists that she was not born to waiting but had waiting thrust upon her and as a consequence, her sullen insolence was diligently honed and perfected over time. However, those ten years of limping from pay cheque to pay cheque did allow her to meet some interesting people and get fed as well.
Now Dubecki is dishing out the dirt, the workplace politics, the affairs, the scams and the scandals in the restaurant industry. She has gathered the good, the bad and the bloody ugly from delusional owners to psychopathic chefs, from dish pigs to insufferable customers and fellow waiters. No prisoners are taken as she delivers her expose with deadly intent and irreverent humour.
Hilarity and horror are mixed in equal portions and her insights caution anyone from owning, working in or going to a restaurant. Not that this will actually happen but there's lots of tips for navigating your way to a good dining night out including: staying away from restaurants that have more than two tables not cleared; never ordering seafood on a Monday, particularly if it is a special; never ordering risotto and never being rude to wait staff … ever.
Lezly Herbert
Read more book reviews in our Bibliophile section.