Big Gay Binge | It's time to Call The Midwife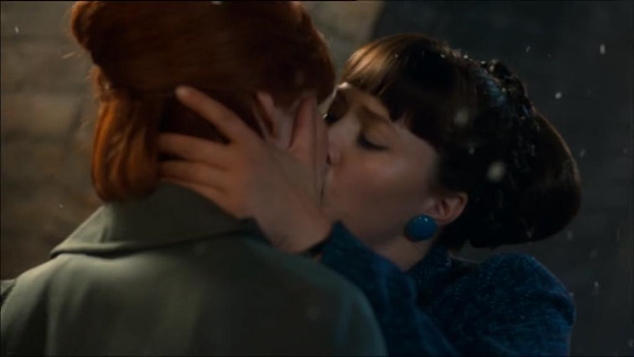 Boil some water and get some towels, she's delivering right now.
Whilst in the middle of yet another late night Big Gay Binge I stumbled across an old favourite that five seasons of have recently been uploaded to Netflix and Stan. This British 1950's period drama is the televisual equivalent of a nice cup of tea and a tray of biscuits. In short, it's not the kind of show you'd expect to be bursting with queer characters.
As I settled in for a lost weekend of comfort viewing, shades of the rainbow began to colour the storylines and one even of the central characters, Nurse Patsy. Which is no small thing considering the conservative period in which the show is set.  In episode three of season four, Call the Midwife delivers a tragic story arc involving Tony, a handsome young mechanic with an expecting wife who has a brief but ultimately tragic "cottaging" encounter with an undercover policeman in a public toilet, resulting in a charge of gross indecency.
As the fallout of that brief encounter plays out Tony loses his livelihood, the respect of his community and nearly his freedom and his life. The punishment he is given hardly seems to fit the crime but it's an accurate reflection of the belief of the time that homosexuality was something that could be cured. The kind of queer baiting techniques employed by authorities to entrap and imprison closeted gay men are still used by law enforcement agencies in many parts of the world, perhaps most famously by the Los Angeles Police Department, who employed this same honey trap technique to lure pop star George Michael into a public solicitation scandal.
It's a powerful episode, which lifts the lid on the sexuality of another character, Nurse Patsy. Patsy's sense of outrage over Tony's treatment foreshadows her own coming out story. What initially appears to be just an intimate friendship between Patsy and her colleage Delia blossoms over the course of two seasons showing that they are definitely more than just friends. The fact that their love story plays out under the nose of the oppressive institution of the Church makes it even more delicious.
By episode seven in season five, the two are seen entering a lesbian speakeasy and to the tune of The Paris Sisters "I love how you love me"  Patsy and Delia share a slow dance. Like the rest of this surprising series it's depicted in a fashion that is simple, gentle and completely bereft of judgement that packs an emotional wallop. I don't mind admitting that it had me sobbing into my Pinot Grigio.
4/5 Stars
Seasons 1 – 5 are currently streaming on Netflix and Stan, just keep the tissues handy.
Clinton Little