Big Names of Jazz Collaborate with WAYJO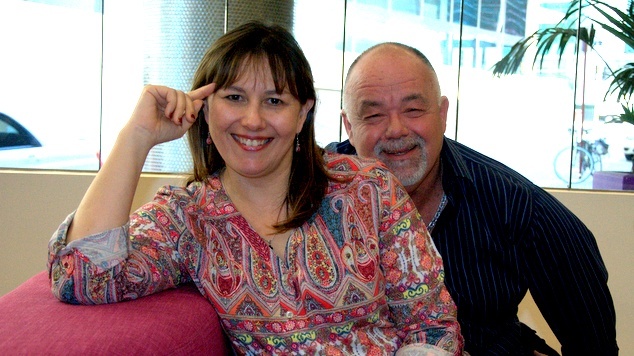 Jazz singer Jacki Cooper and band leader and drummer John Morrison are in town this week working with the WA Youth Jazz Orchestra (WAYJO) in the lead up to a show at The Astor Theatre on Saturday night.
'WAYJO Singing Up a Storm' will see the two jazz identities performing with the acclaimed local group alongside a host of local performers including Libby Hammer, Victoria Newton and Bronwyn Sprogowski showcasing songs made famous by singers including Billy Holiday, Ella Fitzgerald and Dinah Washington.
For the established performers working with young musicians from Perth is an exciting prospect. As we meet up ahead of Saturday night's show both Morrison and Cooper and enthused about the collaboration.
"It's great to be able to perform with young musicians at the early stages of their career," Cooper said.
"WAYJO is quite unique in Australia", Morrison said citing that the Orchestra recent touring of the east coast has given them an enviable profile.
Cooper agrees, noting that WAYJO has developed a reputation for excellence, "When people ask what WAYJO stands for? I say it stands for excellence."
For Morrison music has always been a central part of his life.
"My Dad was a Methodist minister and Mum played the organ," Morrison recounted, explaining that he and his sibling's first exposure to music was in church.
"I would sit in church singing along to the hymns, and some of the hymns had the gospel and blues sound and early jazz had that. When I first heard blues and gospel jazz, I just thought it was church music."
Morrison and his younger brother James, a respected musician in his own right, discovered the world of jazz when a neighbour gave them a box of records.
"James and I were pre-teens and we had this huge box of incredible records that nobody else had, Dizzy Gillespie, Oscar Peterson and Dudley Moore – absolutely everybody."
That box of records started the brothers on a journey which has seen them become eminent performers in Australia's jazz scene.
For singer Jacki Cooper, music was always in her household growing up, but she didn't realise how much of it was jazz music at the time.
"My father was Director of Music for the air force," explains Cooper, "he was always a musician and always part of big bands. I grew up with Glen Miller and Benny Goodman and James Last. It was infused in me, without me knowing that it was jazz."
Joining her local musical theatre company allowed Cooper to explore music further.
"I discovered Cole Porter, George Gershwin and Irving Berlin, but again really didn't recognise them as jazz." Cooper explained. After completing a TAFE course Cooper was encouraged by her lecturers to enrol in a University program.
"I started this jazz degree with no clue really of what jazz was, I was twenty three and had lots of music in my life but I wasn't like the 17 year olds in the course who just lived and breathed Coltrane, Davis and Parker, I had no idea who they were!" Cooper laughs.
One of the regular talks Cooper gives as a teacher focuses on listening with intent. The singer recalls that in her early days of university study she used to listen to all the different versions of a single tune that she was going to perform.
"If we were doing 'Autumn Leaves' I'd go to the library and listen to every single version of 'Autumn Leaves' and tape each one on to my blank cassette, but you'd have to sit there and listen through the whole song while it recorded. If its Coltrane or Miles Davis it might take 14 minutes." Cooper said.
Listening to music repetitively is an important part of the creative process, argues Cooper. In today's world of fast downloads and flicking forward to the next tune with the press of the button, younger students now need to learn that skill of attentive listening.
Upon their arrival in Perth both Cooper and Morrison spent their first day judging a competition of local high school jazz bands. A total of 53 bands took part in the competition, something which Morrison sees as a sign of healthy future for WA's jazz scene.
"It's a healthy environment" Morrison said, "…it's at a stage of critical mass where Perth has such an insular and strong environment. The great musicians who have studied here, and have family here come back to live here and teach."
"The kids were doing really advanced pieces." Cooper commented.
The duo agree that a combination of great teachers in our schools, programs like the WA Youth Jazz Orchestra, the program at the WA Academy of Performing Arts and specific jazz venues including The Ellington Club have created a great jazz environment in WA.
"One of the things about being Perth, and being a little bit more remote than the eastern seaboard, is that you've got to create the environment. If you want a jazz scene, you've got to go out and make it." Cooper said.
Teaching and mentoring is central to the philosophy of jazz argues Morrison.
"Jazz has always had a mentoring role about it." Morrison said, 'Through all of its genre changes, even up to the late '70s we didn't intellectualise and teach jazz in universities. There's always been mentoring roles in jazz and old traditions being passed on."
Morrison also highlights that because jazz is taught in so many schools it has a self-generating audience, with each generation of jazz lovers creating the next generation of audiences through their students.
Morrison said that Saturday night's concert will be a very accessible program that features a lot of great vocal talents.
"We'll be focusing on the great vocalists of jazz history," Cooper said, "which in turn plays homage to the great songwriters and the great American songbook."
'WAYJO Singing Up a Storm' is at The Astor Theatre on Saturday August 16 from 8pm. Tickets are available from www.showticketing.com.au     
Graeme Watson