Film Review: Bill Cunningham, New York (PG)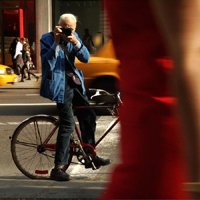 Directed by Richard Press
According to New York Times photographer Bill Cunningham, the best fashion show is on the street. He should know because; his page in the New York Times, On The Street, has been documenting fashion trends for over fifty years.
Dressed in his blue work jacket, with a camera as a permanent fixture and a bicycle as his only means of transport, he is a well-known figure as he chases after anyone who catches his attention. As well as photographing uptown fashion shows and social events, he captures ordinary downtown people going about their business.
Importantly, he has obsessively saved every negative of every photograph he has ever taken – still using traditional film rather than converting to digital technology.
After years of trying to convince Bill to be filmed, Richard Press was finally given access to the very private world and simple lifestyle of this cultural anthropologist. While Bill spends most of his hours rubbing shoulders with the elite of New York, his lifestyle is almost monastic.
He has lived in the same studio apartment above Carnegie Hall for 50 years and, at over eighty years of age, he still works every day except Sunday when he goes to church. He doesn't have bathroom in his apartment or a kitchen and he hardy ever eats. Extraordinarily, he doesn't partake of any of the sumptuous food or alcohol on offer at the myriad of events he attends every week.
With no crew and a small camera, Press is able to record intimate conversations with both Bill and his 96 year-old neighbour who are in the process of being evicted from their apartments. They are inspirational people whose obsessions seem to have given them the key to longevity, and Bill Cunningham's legacy of photographs show how much fun fashion can be.
Lezly Herbert
***