Black Rainbow: Mental health and the Indigenous queer community
'Diversity is being invited to the party. Inclusion is being asked to dance' – Verna Myers
Dameyon Bonson, recipient of the Dr. Yunupingu Human Rights Award 2016, is working to strengthen Indigenous communities and improve the access to mental health services by Indigenous Lesbian, Gay, Bisexual, Queer, Transgender and Intersex people and decrease homophobia and transphobia associated trauma.
OIP caught up with Dameyon on the eve of his Perth 'Indigenous LGBQTI Inclusive Practices in Mental Health and Suicide Prevention' workshop. One of several recent workshops that will have trained over 130 people to;

Increase their knowledge of the needs of Indigenous LGBQTI people.

Identify what micro-aggressions are and look at how they operate and affect people's experience in all levels of health system.

Demonstrate how our attitudes and values impact on the people we work with.

Provide a safe environment for learning.
So Dameyon, tell us a little about the history of Black Rainbow and how it came to be?
"Black Rainbow operates as a platform to highlight and positively reinforce to the Aboriginal And Torres Strait Islander Community who identify as LGBTI, that is it OK to be who they are and that they do have a place in the broader community. Where we stemmed from really was that there was a lack of visibility in the LGBTI space and in general for the Aboriginal And Torres Strait Islander Community Queer population."
So really it was about noticing that there was a gap. That there was no representation of Aboriginal And Torres Strait Islander Community who identify as LGBTIQ+?
"Not only that. It was also within the literature of Suicide Prevention there was no representation of us. I was around 39 and it was like a light bulb moment where I was just like; Hang on, there is no health promotion material that speaks directly to Aboriginal And Torres Strait Islander Community who identify as LGBTI people outside of HIV. And despite all the literature and statistics about the instance of suicide [in both these communities] there was really no representation. Using the internet and Facebook seemed like the easiest way to connect other people to Black Rainbow and to one another and that's really how it all started.
After several years of being operational online and getting some media attention, we made some attempts at partnerships with larger Suicide Prevention and LGBTI organisations, we found that the arrangements were offered in a manner that was maybe not going to be equitable for both parties."
Was it a case then of not being able to find opportunities that you need so you really had to create them for yourself?
"Absolutely. We can't just continuously be just invited to the table, we need to have opportunities of our own and that hasn't really happened yet. Through Black Rainbow we are really highlighting the need for specific resourcing for Aboriginal And Torres Strait Islander People who identify as LGBTI, especially in regards to suicide.
Lived experience as an Aboriginal And Torres Strait Islander Person who identifies as LGBTI is paramount. We want to attract people that are aligned with who we are and we do and our aim is to support organisations and programs to include these voices in their work."
It seems like you have had exponential growth over a relatively short time, which really speaks to the need that exists out there. Where are you finding Black Rainbow is headed now?
"As of last year, we have really been looking at where we pivot to next and really it was to look towards becoming a national organisation. A very bold thing to do. I didn't quite know what I was getting myself into!
We are transitioning into a social enterprise structure. We have a diverse advisory committee made up of representatives that work in homelessness services, People living with disability, People living with HIV and young people who are really showing leadership in this space. We will be seeking partnerships from the sector- we don't want to duplicate what is already out there but want to work together to strengthen what currently exists.
We also want to grow the visibility of those people in our communities that are doing this work already. We are also hoping to expand this campaign to also raising profiles of Aboriginal And Torres Strait Islander People who identify as LGBTI and are exiting the justice system or experiencing Family and Domestic Violence."
Are there any current Black Rainbow projects that people can connect with or support?
We have just partnered with the 'Twitter For Good' Campaign. Which is super fantastic and we hope to share the outcome of that partnership in the coming months.
Through our fundraising efforts we will also be offering free phone credit vouchers to Aboriginal And Torres Strait Islander People who identify as LGBTI to help them stay connected with family, friends and even support services.
We have also created T-shirts with positive messaging  'You Matter' and 'Deadly and Proud' and we hope the profits can provide micro grants to support Aboriginal And Torres Strait Islander People who identify as LGBTI who are those little pockets of activity out there and need some support to host a community event."
How do you think the wider LGBTIQ+ can community support our Aboriginal And Torres Strait Islander Brotherboys, Sistergirls and Rainbow family?
"It is all very well to invite Aboriginal And Torres Strait Islander People to activities and events, but if we don't have the chance to dance alongside you then our place there is really quite token."
So, it sounds like the future is looking bright for Black Rainbow?
"We just crossed over 8000 people on our Facebook group and for Aboriginal And Torres Strait Islander People who identify as LGBTI people to have this presence is nothing short of amazing. 2018 Is looking to be very exciting.
Ultimately we want to prevent Suicide through a contagion of love."
Dameyon has provided some tips to including Aboriginal And Torres Strait Islander Voices in queer spaces below.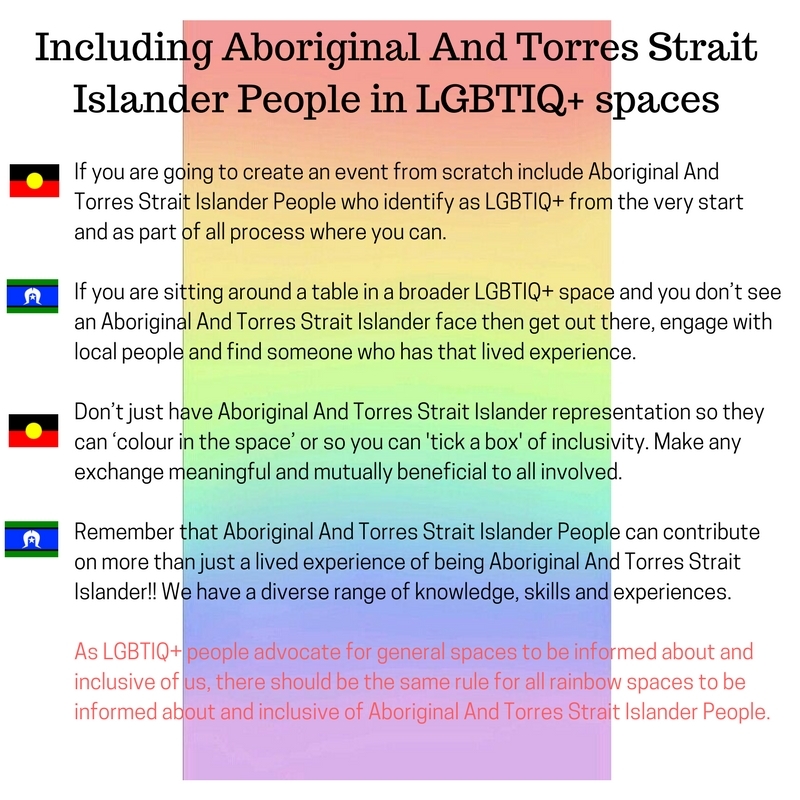 To connect with Black Rainbow and share some love visit blackrainbow.org.au and Facebook.
Bella Broadway
---
Do you need some support?
If you are struggling with anxiety or depression, support and counselling are available from:
Lifeline: 13 11 14
Beyondblue: and www.beyondblue.org.au
QLife: and www.qlife.org.au
QLife are a counselling and referral service for Lesbian, Gay, Bisexual, Transgender and Intersex (LGBTI) people.
---
Support OUTinPerth
Thanks for reading OUTinPerth. We can only create LGBTIQA+ focused media with your help.
If you can help support our work, please consider assisting us through a one-off contribution to our GoFundMe campaign, or a regular contribution through our Patreon appeal.