Boy George strips back the layers in emotional new Culture Club video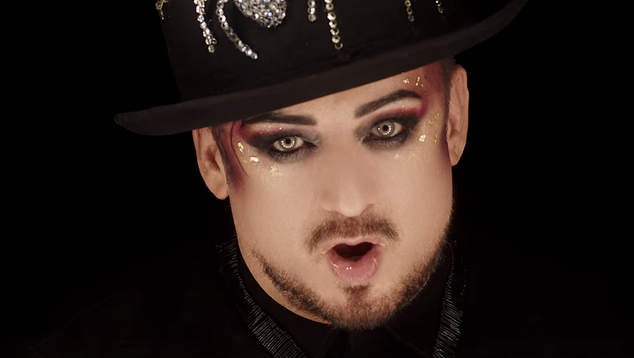 Boy George has been a style icon for decades, instantly recognisable with his hats, bright clothes and elaborate makeup, but in a new Culture Club video he strips in all back appearing bare faced with tears running down his cheeks.
The video for Life, the title track from the band's comeback album Boy George appears in front of a makeup mirror rotating through a variety of different outfits before revealing a stark almost unrecognisable version of himself. The treatment is perfect for the bold gospel tune.
The partly animated video was directed by acclaimed photographer Rankin. Boy George said the song was about looking back on your life and taking in the good and the bad.
"John Lennon said 'LIFE' is what happens while you are busy doing other things, but sometimes you have to stop and look with sadness and pride at what you have done and created in your own life and value the rich complexity of it!" Boy George said in a statement about the new song and video.
"As the lyricist of 'Life' I wanted to express something truthful, honest and bare while carrying an uplifting message of hope. It's my story but it's a story so many people will resonate with. A story of recovery, transformation and the start of a brand new journey which has already brought Culture Club well deserved accolades.
"It's a song about second chances and new beginnings, enlightenment, spiritual growth and personal redemption." George said.
The singer's own life has certainly been filled with ups and downs. While Culture Club was one of the biggest bands of the 1980's, Boy George's solo career did not bring as much success. He later found new fame as a club DJ and dance artist, but his life went off the rails with drug addiction and he spent time in prison.
Today Culture Club is back together, have released a new album, and are delivering sensational live shows around the globe, and George has found success on TV as a coach on both the UK and Australian versions of The Voice. 
OIP Staff
---