British media slammed for sensationalist HIV/AIDS headlines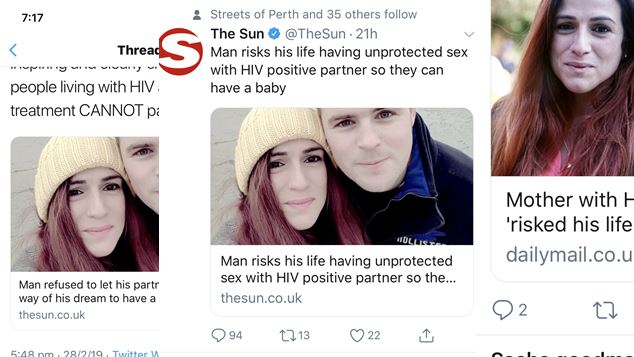 British newspapers The Sun and The Daily Mail have been slammed for using inaccurate headlines about people living with HIV.
The Sun shared the story of HIV activist Sasha Goodman and her husband Jay Hart. The couple's story highlights how people can successfully live in serodiscordant relationships without any risk of the other partner being exposed to HIV.
Sasha was diagnosed with HIV when she was five years old, she was born with the virus. However because of the success of current medical treatments she has been able to maintain her viral load and undetectable level and has given birth to her own two children.
In the story the couple share how Jay has never been phased by Sasha's HIV status and it was a great opportunity to share the real facts about HIV in 2019 and reduce stigma for those who are living with HIV.
Sadly when The Sun first posted the story they added sensationalist headlines. "Man risks life by having unprotected sex with HIV positive partner", the story was also shared by The Daily Mail who used similar phrasing.
The Terrence Higgins Trust, one of the UK's leading HIV organisations expressed their disappointment.
"Headlines like this undermine all the work to promote the message that those on effective HIV treatment can't pass it on" the group posted to Twitter.
Sasha Goodman voiced her frustration saying the headline was designed to make her look "stupid and infectious".
The Sun soon changed the headline to be a more accurate reflection of the article's content. A spokesperson for the newspaper said people would not have misunderstood the meaning of article if they had read the story beyond the headline.
"The piece reflects—at length—the fact that individuals with HIV can live entirely normal lives and that mercifully medical treatments have advanced quickly in recent years," the spokesperson told Pink News.
"Nobody reading the copy could think our intention was anything other than that. Though the headline is a reference to a quote from the interviewee, we have changed the headline to ensure that the feature, rather than the headline, is the focus of our readers' attention."
The quote used in the headline however does not appear in the body of the text.
The Terrence Higgins Trust has highlighted that People who are living with HIV who have an undetectable viral load have a 1% chance of passing HIV via childbirth.
OIP Staff
---