Brunch, Lunch, Munch: Roasting Warehouse, Satchmo, The Court Hotel
BRUNCH
Roasting Warehouse
Great coffee and intriguing food combinations make brunch at Roasting Warehouse a great choice.
We sampled the Potato Rosti topped with Eggs Benedict, the rosti had a super crunchy coating and were smooth inside and matched perfectly with the crispy bacon.
The Warehouse steak burger was sensational, the slow cooked meat just fell apart. People watching here is great too – we're sure we saw the future cast of Real Housewives of Perth.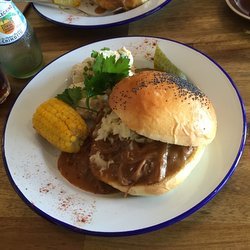 Roasting Warehouse is at 312 South Terrace South Fremantle
LUNCH
Satchmo
This great café opposite the North Perth Plaza not only has great food, you'll often find a jazz band playing and they also sell cool vinyl records on the side.
Their signature burger 'The Satchmo' is corned beef with roasted tomatoes, Gruyere cheese and pickles.
We're going to be heading back soon to check out their Matzo Ball Chicken Soup.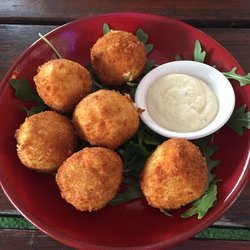 Satchmo is at 1/400 Fitzgerald Street, North Perth
MUNCH 
The Court
We all love to hang out at The Court and in recent months the beer garden has been a favourite haunt of the OUTinPerth crew while we were searching for a new office.
But seriously have you tried the Macaroni Cheese Balls? They're very addictive, we're slightly obsessed with Macaroni Cheese – so the option of a snack sized version was just irresistible.
The Court, 50 Beaufort St, Perth