Calls to boycott MIX94.5 over marriage advertisements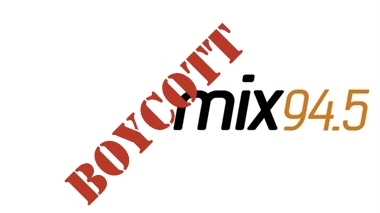 Members of the Perth LGBTI community have called on their friends and allies to boycott top rating radio station MIX 94.5 after the station began playing advertisements from the newly formed Marriage Alliance.
The station is part of the Southern Cross Austereo network alongside sister station hit92.9 and home to popular the breakfast show 'Clairsy, Shane and Kimba' and the Drive program 'Lisa and Pete'.
A Facebook group highlighting the advertisements was formed by local DJ Cinnamon and has quickly begun attracting followers. Messages have also been posted on the station's Facebook page.
The Marriage Alliance is a new organisation launched last Sunday that argues that Australians have not considered all the implications of allowing same sex couples to wed.
In a statement announcing their launch official spokesperson Sophie York said Australians need to hear opposing arguments against allowing same sex couples to wed.
"The powerful SSM activists is entitled in a democracy to state their view, but it is also the right of mainstream Australia to hear opposing arguments and to express their opinion without fear," according to Sophie York, spokesperson for the newly formed Marriage Alliance.
"The view of the Marriage Alliance is that permitting same-sex couples to marry under a changed Marriage Act would have major consequences not realised or understood by most Australians.
Ms York said Australians need to have a greater discussion about the rights of children, the rights of future generations, sex education, religious freedoms, morality, business and professional regulations, and legal implications resulting from permitting same-sex marriage.
Television Channels Seven and Ten turn down TV ads
The group have struggled to get their 'iceberg' advertisements aired on Australian television.
Speaking to SBS News Ms York said broadcasters who refused to play their advertisements were denying their right to free speech.
"It's quite shocking that two major TV networks are denying the basic right to freedom of speech and expression on an issue that supports the current law of the nation." Ms York said.
The group has indicated that they will speak to Prime Minister Tony Abbott and Communications Minister about the media companies who have refused to run their advertisements.
"Has political correctness or the power of a certain lobby group reached so far down that it now erodes the once proud Australian 'fair-go' character that it is preventing ordinary Australians from having a voice?" Ms York asked.
Bakeries and Television Stations are different
Earlier this week Ms York appeared on Sydney radio station 2GB and discussed with host Steve Price the example of of Ashers Bakery in Ireland being taken to court for refusing to make a cake because they didn't agree with the message on the cake was not acceptable.
"What we've had in the past is a great freedom in the area of trade." Ms York said. The activist said that previously a business could turn down business that they didn't want to associate with if they didn't agree with its message. Ms York used the hypothetical example of a printer not wanting to make a T-shirt that promoted the Sea Shepard organisation.
Ms York said businesses should be able to turn down work without being pilloried or hauled before tribunals and fined or have their businesses ruined.
Ms York has told the Sydney Morning Herald that the example of a bakery refusing to make a wedding cake and a broadcaster refusing to air an advertisement are different.
"All we're doing is saying that we are offering a forum for people to debate an issue. And that forum is open to people even who support changing the definition [of marriage]. It's open to all comers.
"We definitely have a position of supporting the current definition [of marriage]. But the difference is we are not going to turn away anyone who wants education about the issues … what we're offering is information, a safe haven for people to learn about it."
Channel Ten has said that it does not discuss commercial agreements, while Channel Seven has said it was unable to accomodate the booking request. Channel Nine has confirmed the ad is playing in select timeslots.  Earlier this week a representative of Chanel Nine told OUTinPerth that the advertisement was not playing in Perth.
Mix94.5 was contacted for comment. Cinnamon is an employee of Anglestan Pty Ltd, the company that owns OUTinPerth.