The Chevron Festival Garden is the Coolest Place in Town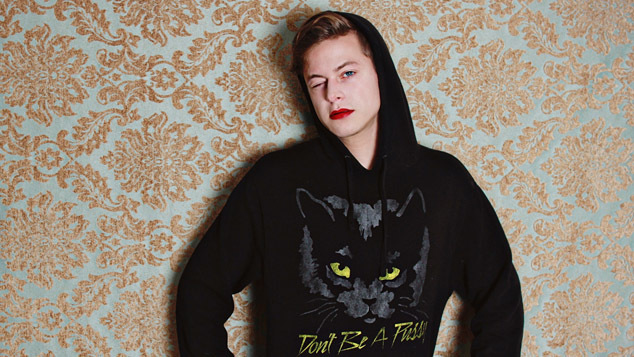 Each February the Perth Cultural Centre becomes a lively and thriving hub filled with people experiencing arts and culture to the max. As the Fringe Festival draws to a close, the Festival of Perth takes over and opens the doors to the Chevron Festival Gardens.
Aside from yet another pop-up party space filled with bars, art and eclectic furniture, the space brings some of the most innovative and cutting edge musical artists to town.
Opening last week with a sold out performance from indie rockers Spoon, which was broadcast live on RTRFM, the concert space has a line up of top notch acts.
Friday night saw a captivating performance from New Zealand's Aldous Harding. The intriguing artist, who released her self titled debut album last year, appeared solo on stage playing her guitar and delivering her brand of quiet folk.
Harding is an incongruous artist. She appears as a cool hipster but when she sings she sounds like an Irish woman lost on a moor in the 18th century. Some people find this disconcerting, but she becomes a character in her songs and the songs are subtle and sublimely beautiful.
The highlight of Harding's performance was her final song. She stood alone without an accompaniment and belted out Edith Piaf"s 'Non, je ne regrette rien'. It was a captivating moment that will be long remembered by those in attendance.
The main act on Friday night was Perfume Genius (pictured), the cover star of this month's edition of OUTinPerth. Mike Hadreas, who performs under the Perfume Genius moniker appeared on stage dressed in an dark grey over-sized T-shirt, shorts and fishnet stockings. His bright red lipstick standing out against his monochrome outfit.
Perfume Genius's songs are quite short so over the course of the show he managed to squeeze in most of the tunes from his records. There's a distinct difference between the piano ballads of his first two albums and the thick electronic noise of his more recent work. For the older songs Hadreas sat at a keyboard, but for the new works he stood up and sang.
Perfume Genius gyrates and grinds like a panther about to pounce on his prey, despite being in his early '30s Hadreas looks like a man-child in his late teens, hes captivating to watch on stage. Often utilsing loud shouts and short shrieks in his performance Perfume Genius' performance channeled primal scream therapy. His work is certainly cathartic.
Perfume Genius has certainly found a signature tune in 'Queen' which he delivered perfectly. An unexpected cover version was thrown into the mix towards the end of the show with a rendition of Art Garkfunkel's biggest solo hit 'Bright Eyes'.
Saturday night say UK DJ Mr Scruff delivered a killer DJ set that was filled with percussive beats and a carnival atmosphere. Backed by clever animations that perfectly synced with his musical choices Mr Scruff's set was a party from the start to the finish.
Inspiring a large crowd to dance with full abandon, the DJ who is a respected musical artist in his own right, showed why he is one of the most respected musical selectors on the planet.
Mr Scruff delved into a reggae sound with 'Carpenter' by Dj Vadim featuring Gappy Ranks, and send the dance floor ino a frenzy with a dubbed out version of The Clash's 'Rock the Casbah'. Another unexpected addition was Sergio Mendes and Brasil '77's 'Pomba Gira'. The percussive beats gave way to trumpet filled tunes with Pigbag's 'Big Bean' and a brass version of Inner City's classic 'Good Life'.
The music continues at the Chevron Festival Garden's tonight when alternative RnB artist Tinashe takes to the stage. Friday and Saturday night's Chet Faker shows are sold out but Stephen Malkmus and The Jicks will be performing on Sunday night.
Next week's program includes a double bill featuring Mogwai and former Dinosaur Jr frontman J Mascis. North African artist Bombino will bring his desert blues to the stage on Wednesday. Sharon Van Etten and Tiny Ruins is another great double header on Thursday night.
Other upcoming highlightds include shows from Neneh Cherry and Australian band The Sunnyboys.
See the whole program at the Festival of Perth's site. 
Graeme Watson