Chiang Mai Pride Shut Down by Protests as Police Watch On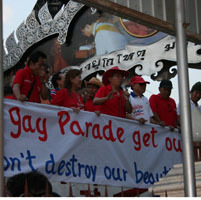 Organisers were forced to call off Chiang Mai's planned second annual Gay Pride Parade on February 21 after harassment from the Rak Chiang Mai 51 political group.
Dressed in their trademark red shirts, members of Rak Chiang Mai 51 locked parade participants into the compound where they were gathering, throwing fruit and rocks and yelling abuse through megaphones.
150 police officers looked on but did nothing to intervene during the four and a half hour stand off.
Fearing escalating violence, organisers eventually called off the parade.
Ginger Norwood from the newly formed Sao-Sao-Et network says the decision to call off the parade was a difficult but necessary one.
'The red shirts continued to threaten violence if the parade started and would not leave the blockaded area as long as there was a possibility that the parade might happen,' she said.
'The inaction of the police further added to the tense situation, because the organisers had no confidence the police would intervene or provide any kind of protection if the red shirt protesters attacked parade goers.'
The action against the Gay Pride Parade had been planned weeks before the event, with Rak Chiang Mai 51 using a local radio station to rally people and driving a truck around the city centre the day before, recruiting people to join their protest.
According to Ms Norwood, witnesses on the day saw members of Rak Chiang Mai 51 paying passersby to wear red shirts and participate in yelling insults.
'Many of us felt like it was a largely political move on their part to claim and assert their power in Chiang Mai, where they knew they wouldn't be challenged by the police,' she said.
In response to the incident, several of Thailand's GLBTI groups joined forces to form the Sao-Sao-Et (Saturday the 21st) network and aim to campaign against violence and police inaction concerning the GLBTI community.
They will host events on the 21st day of every month until next February 21, when they plan to organise another Gay Pride Parade.
Sao-Sao-Et are asking individuals and organisations, both in Thailand and internationally, to write letters to the National Human Rights Commission of Thailand, the Governor of Chiang Mai and the Chief of Police, expressing outrage over police inaction and demanding the safety of GLBTI people in Chiang Mai.
'These letters have real impact because they demonstrate that the issue is being followed by more than just those involved on that day and prevent the government offices from ignoring the issue as an "internal matter",' said Ms Norwood.
For a sample letter and addresses, contact [email protected]
***