Club Q shooting suspect Anderson Aldrich faces 12 additional charges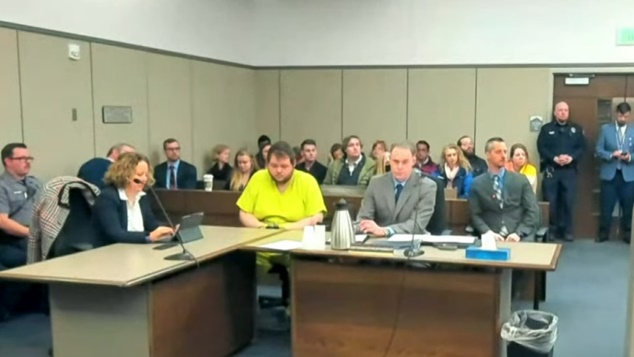 Anderson Aldrich, the 22-year-old accused of murdering five people at Colorado gay bar Club Q, has returned to court to face additional charges.
In addition to the 305 charges they were already facing, prosecutors have added additional charges including attempting murder charges and two hate crime charges. It brings the total number of crimes Aldrich is charged with to 317.
Aldrich allegedly entered the nightclub on 19th November and began firing adapted rifle that quickly filled the venue with bullets. They were also carrying a handgun. Aldrich was subdued by two club patrons with police arriving on the scene just minutes later.
Aldrich, whose lawyers say is non-binary and uses gender neutral pronouns, is facing life imprisonment if convicted of the first-degree murder charges. The case will return to court for a preliminary hearing on 22nd February.
New county Sheriff hopes to work with law makers to tackle gun violence.
Joe Roybal, El Paso County's new Sherrif was sworn into office this week. A 27-year veteran of the Sherrif's department, Roybal told the media after his investiture that he hoped to work with local lawmakers to curb gun-related crime in the area.
Roybal said there would be a focus on assault rifles in the wake of the Club Q shootings and he hoped to be part of the conversation with local politicians.
This week a bill proposing a ban on the purchase of assault weapons was distributed by state politicians, but it has yet to be formally introduced into the parliament. The bill proposes a ban on future purchase of assault weapons but does not require people to give up and weapons they may already own.
The suggestion that a new law may ban some guns has raised the ire of Republican politicians, with one representative arguing that a stapler could be classed as an assault weapon.
Ryan Armagost, a newly elected Republican representative told local media that the phrasing of assault weapons was problematic.  Armagost, who has an extensive background working with firearms, via his time in the military and private security, shared his concerns with local media.
"The biggest thing is just using the terminology assault weapon to basically villainize firearms and owners of firearms," said Aramagost. "Now we're trying to expand that to include everything under the umbrella of firearms, shotguns, pistols, rifles, anything of the sort would be considered an assault weapon. You know the same thing could be used to demonize anything – a stapler or anything like that can be considered an assault weapon if they're gonna keep pushing that." Armagost said.
OIP Staff, image from an earlier court appearance. 
---

You can support our work by subscribing to our Patreon
or contributing to our GoFundMe campaign.