Comedy Buff – Joel Creasey gets NAKED!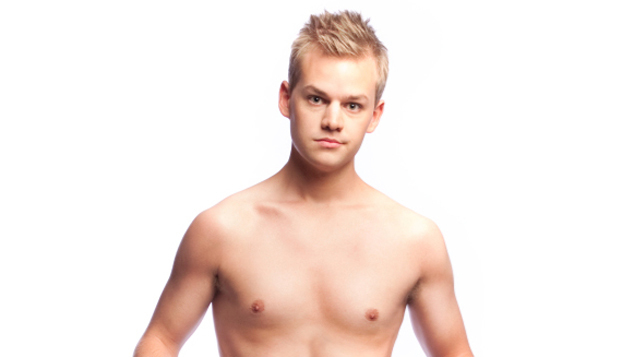 OUTinPerth spoke to Joel Creasey midway through his epic stint at The Melbourne Comedy Festival. Riding the wave of three weeks of sold out shows when we spoke to him, Creasey is clearly ecstatic that this year he's built a keen audience of his own. In his new show, Naked, Creasey confronts a lot of very personal fears – so we thought we'd get right down to business with the question that's on everyone's lips…
What's with making a show about Xena?
We're besties…My show's all about fear and truth and me telling people about some of my secrets. One of my secrets being that I'm a mad Xena fan and that I've got the box set, and that when I was little in primary school we used to play Xena at lunchtime on the oval and I was always Xena because I was a big bully, and we'd make, like,  the exchange student be Gabrielle.
Fiona O'Loughlin told us that it wasn't all Photoshop, you put a lot of work in to your image for this show….Really?
It was a very hard regime. I was gonna do the show a year ago and couldn't bring myself around to the workout schedule and then in about September last year I locked it in and said right, you gotta do it so I had this really hardcore two months  and I did the photo shoot in January which sucked so over the Christmas period I was trying to eat well. Of course there's a little bit of Photoshop because my skin is just not that good. But I possibly take my clothes off in my show, so I couldn't get it Photoshopped as much as I would have liked because I wouldn't have got away with it.
We don't want to let out any spoilers here, but, were you nervous about getting your kit off?
My first night doing it I was paranoid, it was in Sydney and Fiona O'Loughlin and I were trialling our shows back to back. You could buy tickets to see both of us and most of the people were there to see her, um, so that's of course how its gonna go but that was quite nerve wracking doing it for her crowd as well. But yeah, it has gotten easier especially when I think about earlier, the first few weeks of doing it I was very paranoid and it's kind of all I would think about all day, but this morning I was having coffee and I haven't even thought about it today. Maybe that's a bad thing, maybe I need to go back to the gym. I'm starting to get a bit complacent.
Are you nervous about coming to Perth and performing in front of your home town?
This is the other thing as well… I tell a few stories from school in my show and like I'm so lazy I can't be bothered changing names. It's not as satisfying to me if I change the names, so yes, it is confronting. Luckily it's at the end of my run. Perth is my final stop 'cause I do Sydney after this and then I do Queensland and then I do Perth so the show's going to be nice and tight and it's going to be very well oiled and polished by then so it's good for Perth audiences. And it's good for me so I can sort of just ease my way into the Perth run. And my parents come in Perth and stuff and that's scary because I talk about them… so yeah, we shall see.
Apart from putting them in a comedy routine and sharing them all over Australia, how do you deal with your fears?
I have a fear of feet in a weird way. Like, I'm just a bit footphobic and I just don't like feet and I talk about it in my show. I told my friend Adam Richard this he's the gossip reporter for Fox and he's on Outland and stuff. I told him that I have a fear of feet and then he Tweeted to his ten thousand followers on Twitter that I have a foot fetish and could people please send me pictures of feet… and so I started getting all these hundreds of photos of feet -it was disgusting. But it's like, ever since I've been fine with it. I can kind of deal with it. So that's one way, have a malicious friend tweet people.
Joel Creasey is performing from 16th to the 19th of May at 9.15pm at The Astor Lounge. For details see www.perthcomedyfest.com.au
Zoe Carter