Dan Tehan: Protesters should pay for costs of security on campuses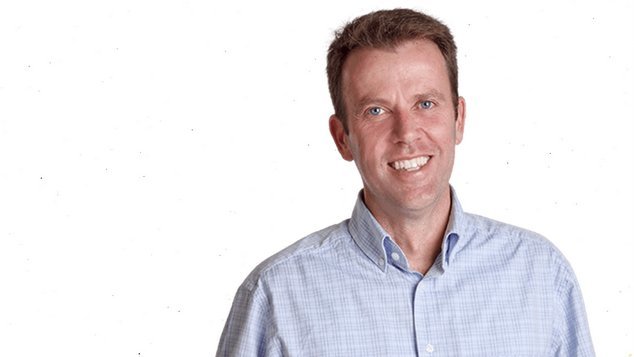 Federal Education Minister Dan Tehan says he'd like to see a system implemented where people protesting on university campuses are required to pay for an additional security costs their protest action generates.
Speaking on the ABC program Insiders on Sunday morning Tehan said he'd raised the issue in a recent meeting with Vice Chancellors from several of the country's top universities.
"Why should it be that those putting on the peaceful event have to pay the security costs, when the protesters, those trying to disrupt the event have no costs put on them as well. It just seems to be absurd." Tehan told host Barrie Cassidy.
"All it will lead to is those protesters trying to up the cost to those trying to put on peaceful events. So I'm hopeful that we might be able to look at a way that doesn't put all the costs on those seeking to disrupt events."
Cassidy asked the minister how he would implement such a plan given that protests are often organic in nature and not lead by a specific recognisable entity or organisation. Tehan said he was looking into potential methodologies.
"We do have to protect freedom of speech on campuses, and so I want to have a look at is there a way we could look at doing this, and if there is, should we then act upon it.
The host highlighted that protest is also a form of free speech, "It'll no longer be free for these protesters."
"That's true", Tehan said, "but if the costs go on those trying to hold the peaceful event and not on those disrupting they then have a weapon that they can use, which is just to drive up the security costs, and I don't think that's fair or reasonable."
Human Rights Commission Ed Santow has voiced his support for Universities adopting policies that allow people to speak freely on University campuses with having to fear intimidating protests. Santow said there might be some value in the Chicago declaration that many universities in the USA have adopted.
The policy allows students to protest but "they may not obstruct, disrupt, or otherwise interfere with the freedom of others to express views they reject or even loathe."
There have been several high profile protests that have occurred on University campuses in recent times.   The University of Western Australia cancelled a booking from the Australian Family Association who were hosting a talk from controversial pediatrician Dr Quentin Van Meter. The campaigner against LGBTI rights argues that transgender youth should be encouraged to accept their birth gender rather than receive treatment for dysphoria.
When commentator Bettina Arndt was invited to speak at Sydney University by the University's Liberal Club that university charged the students an additional security fee.  Arndt argues that claims of a rape culture on university campuses are overstated.
The Head of the Sydney University Liberal Club Jack O'Brien has suggested that a suitable methodology for bringing in a 'You Protest, You Pay' policy would be to identify key organisers of any protest action. Speaking to Fairfax Media O'Brien said "identify key protesters and the key organisations that ran the protest", and send them the bill.
"We want to see a bit of action on this," Mr O'Brien said on Friday. "It's a bit disgraceful."
 On Sunday Bettina Arndt uploaded a video to her You Tube channel naming the students who had organised the protests against her speech. Sharing images and video of the students, the video said the students had broken the university's bullying and harassment policy by creating a safety risk, using offensive language and repeatedly yelling or shouting.
The video highlighted that University's procedures allowed for the expulsion or suspension of the students, or the ordering of a written or oral apology or compulsory counselling. The video urged the Universities Vice Chancellor Michael Spence to take action.
Labor's Shadow Minister for Equality Senator Louise Pratt told Fairfax Media that she disagreed and didn't see a need for new rules.
"I don't think there's a problem on campuses in relation to free speech," Senator Pratt said. "I think the examples in the media show, frankly, that there is contested debate on campuses and that they go to very meaningful issues that are of interest to the community and students."
Senator Pratt said Universities had a special obligation not to host speeches from people who are presenting arguments that lacked evidence.
"Universities have to be mindful that holding an event on campus gives it an academic stature. That's why people like to do things on university campuses," Pratt told Fairfax Media.
"Therefore they [universities] should be careful when they're inviting people on who don't have an evidence base for their argument."
OIP Staff
Update 29-01-20 This article has been updated to improve clarify regarding the descriptors of Bettina Arndt following an investigation by New Matilda.  
---