Martha Wash, Linda Clifford and Evelyn 'Champagne' King rule the disco

The First Ladies of Disco have released a video for their track 'Show Some Love'. The new project sees disco legends Martha Wash, Linda Clifford and Evelyn 'Champagne' King collaborating on the track which asks us all to "show some love".
Read our interview with the three amazing singers below.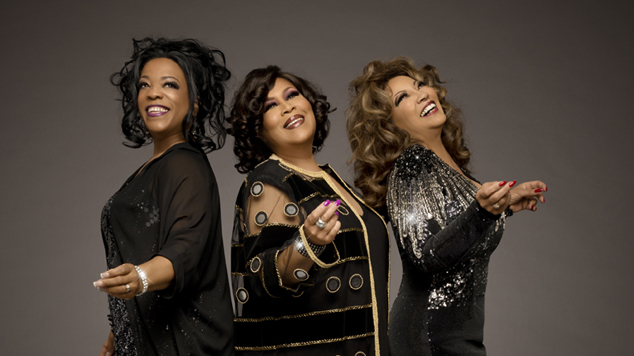 When it comes to seriously loved singers of the disco era, Martha Wash, Linda Clifford and Evelyn 'Champagne' King are held in high regard.
Martha Wash started her career as backing singer with the legendary queer singer Sylvester and went on to be half of the duo The Weather Girls, who also recorded under the moniker Two Tons of Fun. From the million selling 'It's Raining Men' to being the voice of C+C Music Factory and Black Box in the '90s to her own successful solo career – Miss Wash has been taking us to the dancefloor for decades.
Five time Grammy nominee Linda Clifford scored a big hit when disco was at its height with her cover of 'If My Friends Could See Me Now' from the musical 'Sweet Charity'. Her song 'Runaway Love' has been a constant favorite for club DJs. Recently the track 'I Just Wanna Wanna' got a new lease on life after it was featured in the movie 'The Paperboy'.
Evelyn 'Champagne' King is the voice behind hits like 'Shame' and the RnB classic 'Love Come Down'. More recently she's collaborated with San Francisco based musician Miguel Migs.
Now these three amazing singers have teamed up to form The First Ladies of Disco and their debut song "Show Some Love' is being released this month.
Martha Wash explained how the collaboration came about.
"We had worked with each other off and on over the years. The beginning of this 'First Ladies of Disco' in fact was brought about by a book by the same name written by author James Arena.
"What happened was we wound up doing this big show with some of the ladies he had written about in the book. We did this show together and it came out fantastic and we just decided to kind of move forwards and put a group together of some of us ladies and it wound up being Evelyn, Linda and myself."
Wash said the trio have long standing friendships and have always appreciated each other's work.
When asked how long they've all known each other one of the ladies quips "One hundred and forty three years!" before they all agree that their friendship has been going for over 35 years.
Clifford shared that working with Wash and King is not really work, it's just a lot of fun.
"I think that this is really spectacular because not only are we working together as friends and as a trio, but we still have our individual careers, you know, we're each doing our own thing as well." Clifford said.
"So we're keeping busy that way but I love working with these ladies. They're so professional, and it's not working, actually. It's just getting together and having fun so I love it, I absolutely love it.
'Show Some Love', the trio's first release was written by Zack Adams, the writer and producer behind Martha Wash's recent album.
"I try to sing some songs that are uplifting to people and this was one song that we felt that everybody could relate to because it's about being able to show love to everyone. We're living in a crazy world right now where there's a lot of hate going on and we want to show positivity to people and still be able to have fun with the music and have a good time as well." Wash said.
Linda Clifford notes that she appreciates the track's positive vibe, "With all the negativity that's out there, whether it's politics, racially motivated or whatever, we wanted to do something that everyone could really relate to and feel good about."
Evelyn 'Champagne' King shared that she likes the song because it aims to bring people of different backgrounds together, something she feels has been lost in recent years.
"I think it's also to bring us back to where we used to be, because we, if you noticed, we, back in the day used to have a great time together. We all enjoyed going out. Now, we can't go out without fear. We can't go out as entertainers without fear… we're just trying to bring everyone back to where we used to be." King said.
"We enjoyed each other's company, we had a good time, we met each other, all races, creeds, no matter what it was and we all got along- if we could keep that going- that's why 'Show Some Love' is very important to all three of us."
The First Ladies of Disco project is being released on Purple Rose Records, Martha Wash's own label. The forthright singer decided to set up her own label when she discovered no label was interested in signing her as an artist despite her decades of success.
"It's Purple Rose Records. There was no label that was going to sign me at the time, and I still wanted to put out music, so I decided to make my own label." Wash said.
"It's been growing… I put out my last album, 'Something Good' on my label, 'Show Some Love' from First Ladies of Disco is coming out on my label and I'm working with some Canadian songwriters and working with some music that's going to come out on my label."
Wash is clearly enjoying owning her own label and being in the driving seat, she notes that more artists are choosing an independent route of releasing music. Clifford and King also share that they are embracing the artistic freedom away from a major label.
"We'd like to sing our own songs, and we'd like to learn how to write our own music and produce and collaborate with others. We want to learn more. So we're trying to basically let them know that we can do this on our own if not with someone else." King said.
Wash shares that the First Ladies of Disco project might expand in the future to include other artists from the era, and a tour is also in the works.
"We're setting some things up now," Clifford said, "So we will go out as the First Ladies of Disco and then of course with our individual programs as well. So we're anxious to get out there and put some new songs together and to do our own thing!"
First Ladies of Disco 'Show Some Love' is released on March 25th. Check out the video, original tune and dance remixes.
Head back into the archives and read out previous interview with Martha Wash.
Graeme Watson
This story was first published as 'The First Ladies of Disco Unite for New Project' on March 16th 2015. It was updated on July 19th 2015 to include the video for the project.