Liza meets Frank N Furter in EastEnd Cabaret's Sexual Tension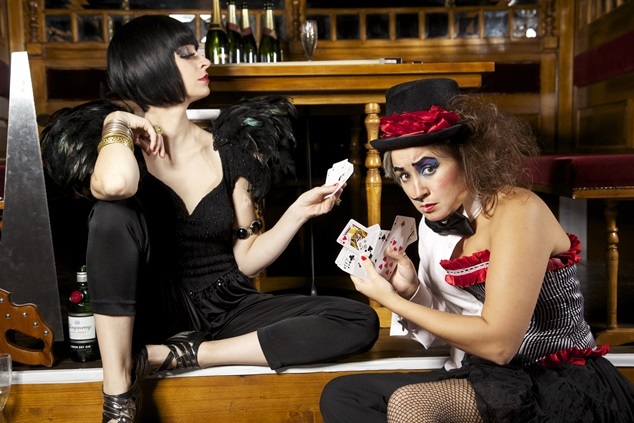 EastEnd Cabaret: Sexual Tension | Circus Theatre | Until Jan 30 | ★ ★ ★ ★  
Sexual Tension is a femme fatale mashup cabaret, styled circa 1930's pre-WWII from the Weimar Republic where the only man or man beast is being a slave or object, and a dead pizza delivery boy is bringing your sexual fantasy to a circus tent near you.
Sexual Tension is like a mashup of The Rocky Horror Picture Show and Liza with a Z on a gin binge.  Jennifer Byrne's (Bernadette) husky sultry voice is reminiscent of Nina Hagen on sleeping pills and booze on a good night. Sexual Tension is experiencing the unseen alternative multiverse out-takes of The Rocky Horror Picture Show. Bordering on sexual assault… or is that consensual assault?
Bernadette is a female version of Frank N. Furter from Rocky Horror with lashings of Sally Bowles, the fictional character created by Christopher Isherwood in 1937 – who later appeared in the better known 1972 American musical drama film Cabaret.
Vicky Falconer-Pritchard (Victor Victoria) AKA Victy is a half-man/half-woman gender illusionist one person band, playing keyboard, accordion, and singing lively vocals.
Pushing the edges of suburban inner city London squalor, Sexual Tension laughs at itself. They share a bedsit in London where a flatmates sexual conquest can become awkward when one is secretly in love lust with the other; they are not a couple.
Sexual Tension is half a dozen vignettes of luscious honey dripping handfuls exploring everything from being a dungeon mistress from a fictitious early 20th century Eastern European country. Man-beasts and kinky pee sex experienced on a recent holiday to Japan. Yoga downward dog sex. Sex with a full body cast after trying your luck in the kitchen with flans, which are open, rimmed, pastry or sponge base, containing a sweet or savoury filling, yum; and the sex event not ending well. The sexy boss we all secretly desire. A sex dream orgy on Mars with Major Tom and 80's David Bowie with lesbian hair. Accidental anal sex, which hole to choose? A quiet night in with pizza on the couch that ends in sexual jealousy and tragedy. And of course, 3 nipple eroticism are among many alternative sexual possibilities during the cabaret.
The music is impressive, with cleverly constructed engaging and humorous songs driving the plot forward. Musical storytelling giving the cabaret a natural flow and tempo.
Sexual Tension is lavished with audience participation or is that humiliation? So if there is someone you might not like, tell them to sit in the front row.
EastEnd Cabaret: Sexual Tension runs until January 30 at Circus Theatre in the Perth Cultural Centre. Tickets and more information available at fringeworld.com.au
Guy Gomeze