Engrossing and Captivating: Don't miss 'The Bleeding Tree'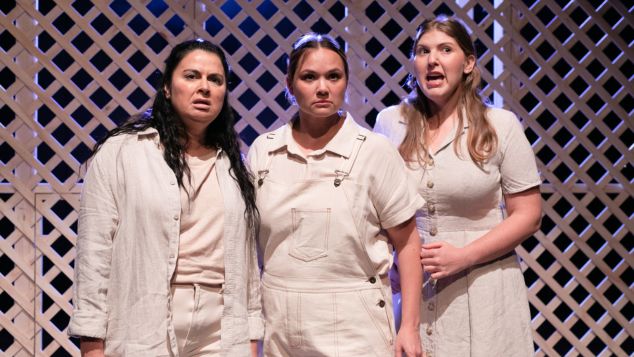 The Bleeding Tree | Studio Underground | Until 14 May | ★ ★ ★ ★ ★
As I headed off to the theatre to see Black Swan State Theatre Company's production of The Bleeding Tree a friend commented that she rarely headed out to see live performance, there's just so much on offer on streaming services and television. I responded that live theatre always has elements of surprise and the unexpected that just can't be replicated on a screen. 
It was a prophetic comment because this production is filled with mind blowing moments that can only be experienced in a live theatre setting. Heart-racing, transformative, reality twisting moments that I'm not going to tell you about, because it will ruin the experience of anyone going along. But there were several experiences in this show which left everyone talking.
In a dusty outback town in Australia a mother and her two daughters have just welcomed home the man of the house…with a bullet. Now they face the challenge of disposing of the body of the man who has tormented their lives for years. 
This play by Angus Cerini was first performed in 2015 at the Griffin Theatre Company in Sydney. It went on to win the Helpmann Award for Best Play the following year and was restaged by the Sydney Theatre Company in 2017.
This version featuring an all First Nations cast was staged to great acclaim at the Blue Room in 2021, and now the production moves to a larger space with a more elaborate set under the stewardship of Black Swan State Theatre Company.
This production retains key cast members Karla Hart as Mum, and Ebony McGuire as daughter Ada, while Stephanie Somerville joins as second daughter Ida. Ian Michael returns as director alongside Set and Costume Designer Tyler Hill and Lighting Designer Chloe Ogilvie, both who get to expand their ideas on to a much larger canvas.
Cerini's script is like a dark Dr Seuss experience, the storytelling rapidly flips between the three actors who recite a poetic narrative, bringing to life not just their experiences, but a myriad of other characters in the tale.
It's a macabre tale, but also one with moments of equal comedy and suspense. It proposes ethical questions, can revenge be justified? When is it okay to turn a blind eye? When is it not.
This production is perfectly timed to coincide with Domestic Violence Awareness Month. It's a play that cleverly allows for serious discussion of an important topic, while successfully avoiding the pitfalls of being sensationalist or a vituperation.
The word heavy script is admirably brought to life by the trio of actors, there performance is mesmerising and it felt like a slight trace listening to their face paced recounting of the comings and goings around their small house on the edge of town.
A soundtrack and sound design from the talented Rachel Dease helps to hold the experience together and create a foreboding and mystical atmosphere.
The Bleeding Tree is at Studio Underground until 14th May. 
Graeme Watson, images: Daniel Grant. 
---
Do you need some support?
If you are struggling with anxiety or depression, support and counselling are available from:
QLife: 1800 184 527 / qlife.org.au (Webchat 3pm – midnight)
QLife are a counselling and referral service for LGBTQIA+ people.
Lifeline: 13 11 14 / lifeline.org.au
Beyondblue: 1300 22 4636 / www.beyondblue.org.au
White Ribbon Australia: 1800 737 732
---

You can support our work by subscribing to our Patreon
or contributing to our GoFundMe campaign.