Feud: Bette and Joan comes to Foxtel in March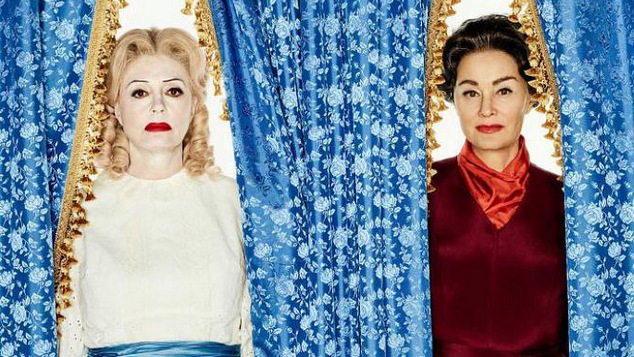 FEUD: Bette and Joan, the new anthology television series from American Horror Story and Glee producer Murphy, will premiere March 12, Sundays at 8.30pm on Foxtel's showcase channel.
The eight episode drama tells the story of the legendary rivalry between Joan Crawford (Jessica Lange) and Bette Davis (Susan Sarandon) during their collaboration on the thriller What Ever Happened to Baby Jane? and well after the cameras stopped rolling.
The series explores how the two women endured ageism, sexism, and misogyny while struggling to hang on to success and fame in the twilight of their careers.
In addition to Academy Award winners Lange and Sarandon, the cast includes Alfred Molina as the film's director Robert Aldrich, Stanley Tucci as studio titan Jack Warner, Judy Davis as gossip columnist Hedda Hopper, Jackie Hoffman as Crawford's housekeeper Mamacita, and Alison Wright as Aldrich's assistant Pauline.
Notable guest stars include Dominic Burgess as Crawford and Davis' co-star Victor Buono, Catherine Zeta-Jones as film star Olivia de Havilland, Sarah Paulson as Geraldine Page, Kathy Bates as Joan Blondell and Kiernan Shipka as B.D., Bette Davis' daughter.
Ryan Murphy serves as executive producer along with executive producers Dede Gardner of Brad Pitt's Plan B Entertainment, Tim Minear and Alexis Martin Woodall. The series is produced by Fox 21 Television Studios.
Foxtel's FOX Classics channel will set the stage for the series with multiple screenings of the 1962 film Whatever Happened to Baby Jane? on Sunday, March 5 at 8.30pm and Tuesday, March 14 at 8.35pm.
Check out the trailer for the show.
Entertainment Weekly recently published the first shots of the two stars as the iconic film stars of yesteryear.