Foreigner warned to stay away from Singapore's Pink Dot gay rights event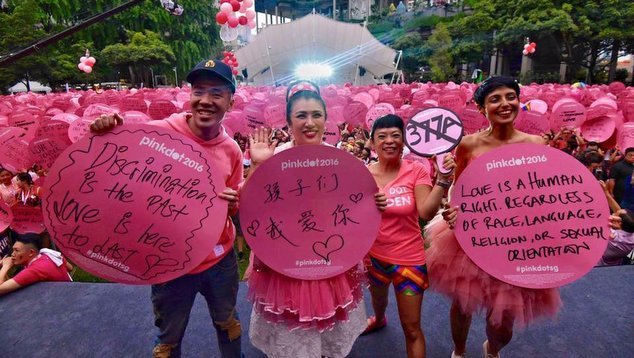 Singapore's Pink Dot celebration will be off limits to foreigners as the government puts additional restrictions on the gay rights event.
Since it first began in 2009 Pink Dot has attracted larger crowd each successive year with over 28,000 people gathering in Hong Lim Park to shine a pink torch lights into the air as a call for LGBTI rights in the island nation.
Last year the event returned to be a daytime event and the 'pink dot' was created by participants holding up pink signs, rather than shining torches into the night.
Homosexuality remains illegal in Singapore and in recent year conservative groups have rallied against the popularity of Pink Dot.
Last November the government introduced new rules stating that only Singaporean citizens could attend events at Speaker's Corner, which is the only place in SIngapore where people can legally speak out against the government.
On their Facebook page the organisers of Pink Dot said police had recently contacted them and highlighted that they could face prosecution if foreigners were caught at the event.
"As organisers, we were reminded by the Singapore Police Force that with these changes, the law no longer distinguishes between participants and observers, and regards anyone who turns up to the Speakers' Corner in support of an event to be part of an assembly.
"In order to continue using Speakers' Corner, Pink Dot 2017 organisers have no choice but to adhere to this regulation, as organisers and foreigners caught flouting this rule are liable to be prosecuted." the group said on its Facebook page.
Last year the government has allowed foreigners to attend the rally, but only Singaporeans were allowed to hold the approved protest placards or take part in the creation of the 'pink dot'. Attendees are not permitted to make their own signs, organisers of the event supply carefully worded placards.
In 2016 foreign owned businesses were also banned from sponsoring the event. Previously large multinationals including Google, Facebook, Apple, General Electric and Goldman Sachs had been sponsors of the event.
International companies have previously complained that Singapore's outdated laws make it difficult to transfer staff to operations in Singapore.
The ban on foreign sponsors has done little to affect the funding of the event. Over one hundred Singaporean businesses have backed the event surpassing its funding target for 2017.   
Pink Dot have requested that people who are not Singaporean citizens or permanent residents stay away from the event, noting that ID cards will be checked before people are permitted to enter the free speech space.
The organisers, and foreigners caught at the event, could potentially face fines of up S$10,000 and could also be given a six month prison sentence under Singapore's strict laws.
Pink Dot 2016 is scheduled to be held on 1 July 2017.