Gay liberation pioneer Dr Charles Silverstein dies aged 87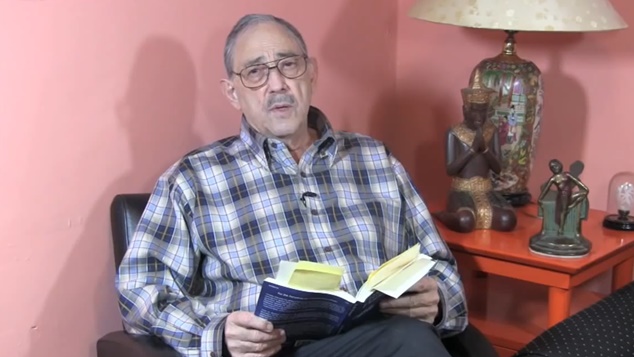 Dr Charles Silverstein, a psychologist who delivered a landmark presentation that paved the way for homosexuality being declassified as a mental illness, has died aged 87.
He was known for advocating against the classification of homosexuality as a mental illness and for his work in the field of sexuality. In particular, he co-wrote the book "The Joy of Gay Sex" which was first published in 1977 and was considered groundbreaking at the time for its frank and open discussion of gay sexuality.
Silverstein is recognised as a pioneer in the fight against anti-gay discrimination and for his contributions to the advancement of LGBTQ rights from the 1970s onwards. He died at his home in New York, he had lung cancer. He passed away on 30th January, but his death has only just been publicly announced.
As a young man Silverstein felt the societal pressure to hide his sexuality but in the wake of the Stonewall Riots in 1969, he became involved in the gay rights movement.
In 1973 he was one of several speakers invited to speak before the American Psychological Association (APA) on the topic of homosexuality. At the time homosexuality was still being diagnosed as a mental disorder.
"Psychoanalysts believed that gay men were doomed to lives of depression and, eventually, suicide because of their shame," Dr. Silverstein later told the Windy City Times, the well-known Chicago-based LGBTQ publication. "I argued that these men were not ashamed because they were homosexual but because of what these therapists were telling them."
Just 10 months after Dr Silverstein gave his presentation the APA voted to removed homosexuality from its official list of mental disorders. At the time the organisation issued a statement saying their decision should not be taken to suggest that homosexuality was as desirable as heterosexuality, or that being homosexual was "normal". The change is however seen as a landmark moment in the fight for LGBTIQA+ rights.
Speaking to The Advocate's LGBTQ&A podcast in 2021 Dr Silverstein shared that he'd been chosen to give the technical side of the presentation putting forward the research into homosexuality, but the argument was conveyed by speakers from many different backgrounds.
"And then Jean O'Leary, who had been a nun but was no longer a nun, she left the church." Dr Silverstein recalled. "She would make the presentation from the point of view of ordinary people, about discrimination in the city of New York. So it was a very well-organized presentation. We knew what everybody was going to do."
"I really do like to say these changes that occurred are not because of any one person at any one time, but it's really the sum total of a number of people who fought, sometimes against the enemy, sometimes with each other, because we had lots of that," he continued. There is no one person that can claim responsibility for these changes. We worked together. I was chosen to make this presentation because I knew the research, I knew the data, and I could present it well."
The Joys of Gay Sex, the book he wrote with author Edmund White, included frank descriptions and illustrations of the different sexual practices and positions that gay men can undertake alongside essential health information. It is seen as a significant work in encouraging gay men to talk about sex and understand their own bodies.
Silverstein would go on to write many books including a guide for parents who have gay children, books for couples seeking therapy, and a memoir.  HIs works included A Family Matter: A Parents' Guide to Homosexuality (1977), Man to Man: Gay Couples in America (1981), Gays, Lesbians and Their Therapists (1991), The Initial Psychotherapy Interview: A Gay Man Seeks Treatment (2011) and the memoir For the Ferryman: A Personal History (2011).
He lost his long-term partner William Bory to AIDS in 1993. He later married the historian Bill Bartelt in 2017 but their union ended in divorce.
OIP Staff
---

You can support our work by subscribing to our Patreon
or contributing to our GoFundMe campaign.