Gay married couple Tim and Rod win 'The Amazing Race – Australia'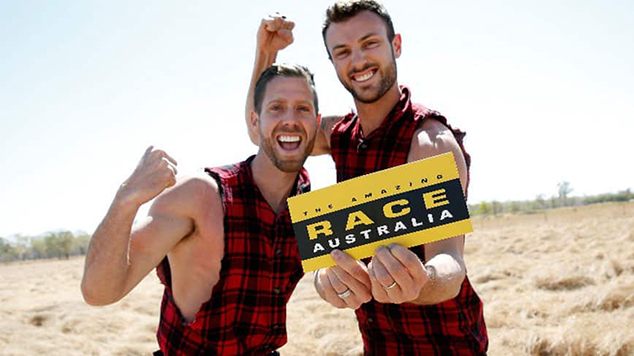 Married couple Tim and Rod were crowned the winners of The Amazing Race – Australia last night picking up the show's $#250,000 prize.
The fitness instruction duo beat siblings Joey and Viv, and indigenous couple Jerome and Jasmine, to the final pit stop on the race in Northern Territory. Popular partnership Tom and Tyler, who had dominated the competition from the beginning, had been knocked out in the previous round.  The Footy mates stumbled to the back of the pack when all the other teams set a 'U-Turn' challenge on them forcing them to undertake additional tasks.
The journey through the series has seen the racers travel from South Korea, through Mongolia, Vietnam, Zimbabwe, Zaire, Malawi and Thailand. Along the way they've ridden camels, paddled canoes, eaten century eggs and fermented milk, tackled goats, piloted drones, and faced dancing and singing challenges.

Tim and Rod told news.com.au that they had lots of ways they were planning to spend their winnings, including more travel.
"We love travelling together so we want to do a truckload more holidays. I've always wanted to take Rod to America and do Vegas and Disney World with him, and we want to go on a big shopping spree, get heaps of new clothes." Tim said.
"Both our cars are rubbish so we want to get two new cars, put some nice stuff around the house, and we want to put some in the bank as well, but we definitely want to live it up, maybe spoil our family as well and take them on a big family holiday."
The show has been a ratings win for Channel Ten who took over the show which previously aired on rival Channel 7. Last night's final attracted 970,000 viewers across the country.
One element of their win that was cut from the show's finale was the moment when Tim got down on one knee and proposed to Rod, saying he's always been frustrated that Rod proposed to him before he got the chance. The new proposal resealed their relationship, the couple have been married for three years.
The footage was posted the The Amazing Race – Australia's social media account.
---