Getting Intimate with John Grant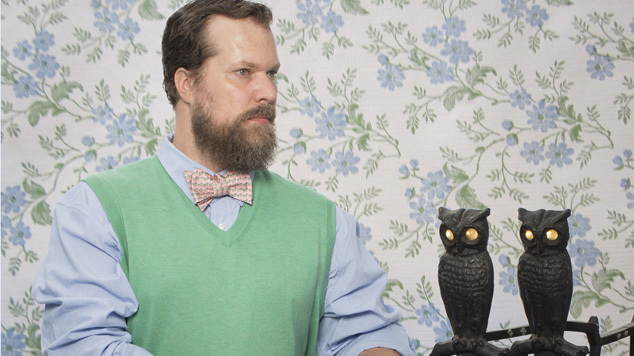 John Grant made himself a challenge, he set himself a deadline and promised himself he'd finish his record by a certain date.
"It was challenging", Grant told OUTinPerth, the singer explaining that he's not good with deadlines and he could never envisage putting out material that he wasn't completely satisfied with. The result is 'Grey Tickles, Black Pressure' an album that has racked up critical acclaim upon its release.
For his third solo album the former lead singer of alternative rock band The Czars returned to Austin, Texas where he recorded his first solo record.
Grant who fronted the band on six albums through the '90s and early '00s has had a surprisingly interesting solo career matched with revelations about his personal life.
His first solo album 'Queen of Denmark' was recorded with the members of Midlake and detailed his challenges with drug addiction and coming to terms with his sexuality. For his second record 'Pale Green Ghosts' Grant moved to Iceland, where he continues to live, working with electronic musicians. On that album he revealed that he was living with HIV. Now on his third album Grant continues his musical explorations with a collection of songs that makes challenging listening; a mix of operatic vocals, dark electronica and strange sounds. Grant said although his music is sounding different the song writing process hasn't really changed.
"It's always about lyrics and sounds, or more lyrics and chords. I do write differently in that sometimes now I start with a computer and I start with sounds and beats and synth basslines.
"I go back and forth, between sitting at a piano playing chords to starting off with the beats. For me it's very much about the lyrics, I always try to concentrate more on the music but end up focusing on the lyrics. I think on this record there is more of a balance." Grant said.
Grant notes that sometimes lyrics seem to take a back seat in the current music scene, but for him having something to say is an essential ingredient.
"I do believe people are concentrating more on style rather than content." Grant said, "Maybe people feel there's nothing left to say, but we're all individuals and as individuals we're all having a unique experience that nobody else is having."
For the video for the single 'Disappointing' Grant is filmed in a very homosexual setting – a gay sauna. Grant said the visual treatment is something the director came up with but it was one he really liked.
"I liked the idea of it, because the song works on so many levels, I'm basically talking about objects and people in the world, I'm not really talking about sex but there's a lot of temptation in the world. There's a lot of really hot men out there!
"There are a lot of really interesting and fun people to connect with, but there is something really rewarding about having a relationship with one person and developing that. Learning how to be intimate with them and developing that over a long time. Continuing to show up to that."
Grant said relationships are difficult, but ultimately rewarding. The singer said he certainly wasn't preaching to anyone, describing himself as the guy who has done everything wrong.
"I'm the guy who has fucked his way through a mountain of people and got HIV and had no idea how to do anything. I don't know how to cook, I never learned to do anything. I just totally didn't fit in and wasn't good at relationships." Grant said.
"I do feel like there's a big thing these days for just completely casting aside whatever is no longer fun in the moment, and 'whatever is keeping whatever vision of myself afloat, I'm going to stick to that', but anything that becomes uncomfortable I'm going to just get rid of." Grant said.
Grant said often he feels our expectations of partners and relationships are set too high.
"People have lists, fucking lists, of where they want the person to be from, and what they want them to have, what they want them to look like, what their body hair should be, what the hair pattern needs to be. What their facial features should be like, they're supposed to have the exact dick and the exact ass, legs, and the right amount of hair on their legs, and they know what that person should do for a living.
"The truth is the person who is going to knock you off your feet – you have no idea what they're going to look like. They could totally not be your type – if we could just allow ourselves to know that this thing called love, it's not about having the perfect anal sex, and it's not getting the perfect right sized dick in your ass."
Grant argues that modern life doesn't foster intimacy.
"Sex isn't always about getting an orgasm. There's this thing called intimacy that is getting increasingly difficult in this world where the attention span is whittled down to zero. Intimacy is something that you work at over a period of time. It's a very skittish creature." Grant said.
Grant said he didn't believe the challenge of developing intimacy was specifically lost within the gay community, but men are more attracted to hedonistic part of sex. Grant said for gay men of his age having to learn about romance is not unusual.
"We were told that we couldn't have all the other stuff, we couldn't have romance, the house and the courtship and all that because it was hidden. Younger people have access to that, they can go to the movies and hold hands, they can have a date, and they can meet someone when they're younger. We didn't have that." Grant said.
'Grey Tickles, Black Pressure' is out now.
Graeme Watson