Ghosts, girls and the grandiose: Blithe Spirit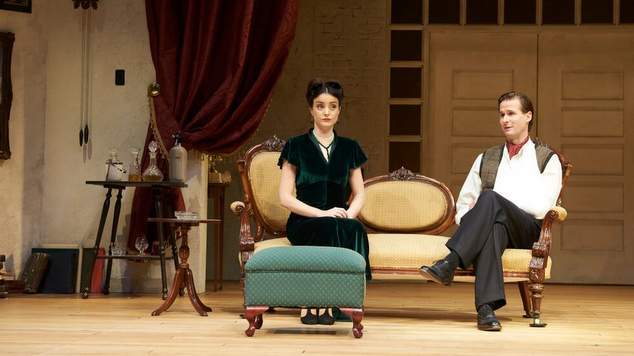 Noel Coward's 1940s play is at its heart a comedy about ghosts. Originally written and performed during the height of the Second World War, the text omits any mention of the embattled world instead focusing on the internal human struggles of love, jealousy, betrayal and understanding. Black Swan State Theatre Company's 2015 staging under director Jeffrey Jay Fowler retains the focus on humanity and the immutable nature of love.
A tale of 'astral bigamy', Blithe Spirit opens in the grandiose home of author Charles Condomine and his wife Ruth. Charles is seeking inspiration for his latest novel, an exploration of the occult, and has called for the services of local clairvoyant – Madame Arcati. The sceptical Condomines are shocked to discover the séance with Madame Arcati was no mere parlour trick when Charles' long-deceased wife Elvira strolls through the garden door with no plans to leave.
Though at first the protagonist seems to be Charles, as the story unfolds it is the ensemble of female characters that dominate the stage. Adriane Daff (Ruth) and Jo Morris (Elvira) gave emotional and nuanced performances that brought a lightness to the 70-year-old dialogue.
Madame Arcati, a pivotal role and eccentric character, was originally to be played by Roz Hammond though due to illness, actor Alison van Reeken stepped into the spotlight. Though van Reeken had extremely limited time to rehearse, and would perform with script in hand, her performance was incredibly strong and stole some of the biggest laughs of the evening. I might have totally forgotten she was holding a script if she hadn't kept fanning herself with it.
The ghostly Elvira was clad all in white, with make-up and a ghoulish wig to complement the look. Elvira was always ensconced in an ethereal blue light as she swept across the stage, bathing her in an effectively eerie glow.
The costumes were exquisite, not only making reference to 1940s style but also augmenting the individual personalities of the characters. Ruth Condomine for example is always in green, perhaps a nod to the envy she holds for Elvira. The set only features the lounge, though the space gives the illusion of an inordinately large domestic home, fitting for the wealthy Condomines.
Jeffrey Jay Fowler's retelling of the Condomine's plight is wonderfully bewitching and the performers give a whimsical vitality to the dead. Blithe Spirit is a 70 year old story, but at its essence the play transcends its context and remains a human tale of love to which we can continue to relate.
Leigh Hill