The Gilbert and Sullivan Society's next production is 'Patience'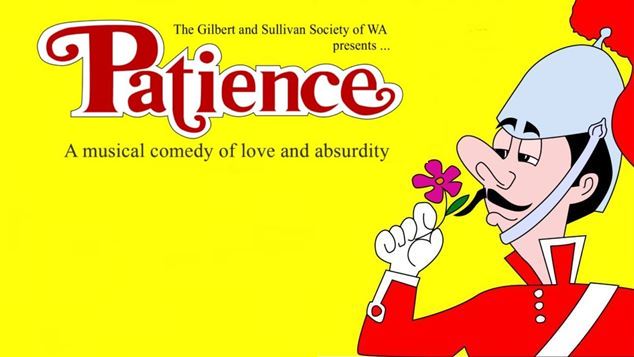 Fashion, pretension, celebrity culture and the pursuit of love are the targets for the wicked wit of WS Gilbert and musical brilliance of Arthur Sullivan in their timeless musical comedy, Patience, opening at the Dolphin Theatre on September 6, 2018.
Gilbert and Sullivan's hilarious satire on the "art for art's sake" movement, epitomised by Oscar Wilde and his followers, is a timeless take on the crazes, fads and fashions that have the power to enslave us all to this day.
First produced in 1881, Patience sees the finest and manliest specimens of Her Majesty's Dragoon Guards go into a state of shock when they realise that the hearts of the most eligible young ladies about town are being stolen by a pair of "beauty loving" poetry-worshipping dandies.
Mayhem breaks out as they attempt to win their intended brides back to their side by any means possible. Even going as far as devising and declaiming poetry themselves and shedding their spiffing uniforms for something more … erm … exquisite?
Presented by The Gilbert and Sullivan Society of WA, Patienceis directed by acclaimed G&S exponent, Alan Needham. Needham is true Gilbert and Sullivan aficionado having appeared in all 14 of Gilbert and Sullivan's comic operas.
Needham said Patience is one of the funniest shows in the G&S comic repertoire and that its nineteenth century setting belies its contemporary relevance.
"It is an eternal delight to see Gilbert gleefully pop the balloons of pretension and pomposity whether it be from fake poets overly fond of reciting their own verses or manly posturing," he said. "Patience is a rollicking romp through the follies of fashion and the foibles of the heart that will have you in stitches and chuckling long after you leave the theatre. And maybe even striking a few poses and reciting a few verses of your own!"
Founded in 1951, The Gilbert & Sullivan Society of Western Australia has produced over 50 productions of Gilbert & Sullivan's extraordinary contribution to the musical theatre.
Founded by Bernard Manning, the Society is supported by The Gilbert & Sullivan / AN Bullock Trust created in 1983 through the bequest of the late Arnold Bullock. Distinguished entertainer, Max Kay became the Patron of the Society after the late Sir Charles Court.
Over seven decades, the Society has brought laughter and joy through the comedy and melody of W.S. Gilbert and Arthur Sullivan to generations of Western Australians.
Tickets are extremely limited for the nine performance season. Bookings can be made via TicketsWA, find about more about the Gilbert and Sullivan Society of WA at their website. 
---