Gloria hits the G-Spot with her Fringe World show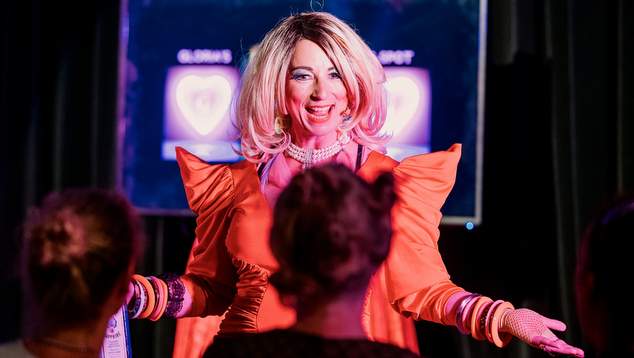 Fringe World is a glitterfest of stars and no one embodies retrosexual glitterama like Gloria (AKA Chloe King) and my good friend Zane Alexander. Their show Gloria's G-Spot returns to Fringe at The Court Hotel's Red Room from Feb18-24. Charlie Perth sat down with the performers and asked some deeply probing questions.
Gloria's G-Spot is returning to Fringe for a second time in 2018. What is it about her G-Spot that audiences find so enticing?
Gloria: My G-Spot is a perfect fit for Fringe World. So much energy, so much fun, so much naughty humour! Think Graham Norton meets Rockwiz meets Julian Clary's Sticky Moments on a Viagra and Ecstasy cocktail.
The G-Spot is part game show, part celebrity chat show and all the filthy fun of an outrageous house party.We celebrate the trashiest moments of the 80s, 90s and Naughties, and in the words of His Royal Purple Highness, "Tonight we're gonna party like it's 1999!"
Zane: It's definitely a game show like no other! The G-Spot is fast paced, packed with laughs, and by the end of the show audiences are dancing in the aisles! Gloria is such an expert at creating a warm and inviting atmosphere in her G-Spot that even the most introverted audience members melt under her tender probing.
What can we expect from Gloria's G-Spot this year that is different from last year? Has it been vajazzled?
Gloria: I'm thrilled that Fringe World audiences have a second chance to get into my G-Spot!
Zane: We ended last year's season on such an orgasmic high. Who could refuse the chance to come again with Gloria? Her G-Spot is tighter, hotter and ready for its second gushing. I'm planning to stand well back. We've fine tuned the show to reflect our strong views around the current sexually-charged political climate, while ramping up the comedy.
Gloria: I'm an ardent supporter of the #MeToo campaign which is why the G-Spot is a safe space for consensual fun and games. I'm now launching the #MeThree campaign as I believe there should always be a threesome in my G-Spot. I do hope it goes viral.
So. Its time to go deep and personal. How did you and your co-star discover each other? What's it like sharing Gloria's G-Spotlight?
Zane: I was in the audience of her sold-out show 'Gloria's Glorious Gloryhole' two years ago at Fringe World. She plucked me from obscurity, handed me a watermelon and before I knew it we were duetting I've had the Time of my Life. I felt launched into stardom, like Courtney Cox being pulled up on stage in the video for Bruce Springsteen's Dancing in the Dark. By the end of the song we were doing 'The Lift' and Gloria said her pelvic floor has never been so elevated.
When it comes to sharing her G-Spot, Gloria is very laid back, and makes room for a whole host of retro pop icons. I get to play them all, Vanilla Slice, MC Crapper, Britney Smears and more, including crowd favourite Fabio, faded '80s male supermodel and self-confessed "most beautiful man in the world". Look, I probably have more costume changes than Lady Gaga.
Where can we find Gloria's G-Spot at Fringeworld in 2018?
Gloria: We'll be getting intimate in the Red Room at The Court Hotel. It's such a perfect fit for us. Our audience will feel right at home under the 'Love Wins' banner, after all, everyone's a winner in the G-Spot! And I'm thrilled to present my G-Spot to The Court's owner Bree Maddox, after all she is a former Penthouse Pet, so she knows quality when she sees it.
Zane: I'm really excited to be back at The Court, where I was head dancer from 2003-2007, creating and starring in shows. Since then I've been performing as a singer, actor and dancer across Australia and internationally, although I'm yet to reach Gloria's level of G-List stardom.
Who gets to play with Gloria's G-Spot?
Gloria: Anyone is welcome in my G-Spot. I'm not fussy so long as it's consensual. Whether you are LGBTTQQIAAP, cisgender or heterosexual, you're all part of my G-L-O-R-I-A alphabet. I'm an "R" myself – a proud retro-sexual, and I'm passionate about re-kindling The Joy of Retro-Sexuality in my audience. We have so much to learn from the past.
After all, in the' 80s, Madonna decreed you should express yourself whether you were a material girl or pretending to be a virgin. Then in the '90s, Chrissie Amphlett reassured us there was nothing wrong with touching ourselves. Things got serious in the Noughties as Britney warned us about domestic violence and toxic relationships.
Personally, I've always been so inspired by George Michael; whether your love is fast, freaky, too funky or even outside, you've gotta have faith.
As a modern-day retro-sexual, I stand with Macklemore; underneath, it's all the same love, and the most important thing is to be totally Glorious.
I'm really hoping other retro-sexuals will be proud to come out of their closets wearing their bangles, leg warmers and double denim.
Finally; Is it true that Gloria is a real person?
Zane: Of course she's real. She's a global G-List Celebrity and the Queen of Everything Retro. Come and get up close and personal in her G-Spot and find out for yourself.
Gloria's G-Spot is on from 18th February, tickets are available via Fringe World.  Check out Gloria's '80s Love Bus Tour as well.  
Charlie Perth
---
Support OUTinPerth
Thanks for reading OUTinPerth. We can only create LGBTIQA+ focused media with your help.
If you can help support our work, please consider assisting us through a one-off contribution to our GoFundMe campaign, or a regular contribution through our Patreon appeal.