Grease – The Arena Experience is here for one summer night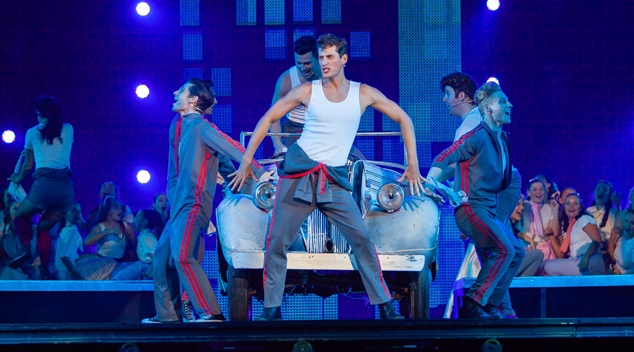 In the 40th Anniversary Year of Grease hitting the movie screens (yes it was THAT long ago), the Arena Production Grease – The Arena Experience has been touring Australia to sell-out arena crowds.
Grease – The Arena Experience featuring over 700 performers thunders onto the stage at RAC Arena for 2 shows only on Saturday 19th January.
The star of Strictly Ballroom and the ABC hit TV show Dance Academy, Thomas Lacey will pull on the tight black strides and white T-shirt and strut the stage as Danny Zuko. Joining him as everyone's favourite high school sweetheart, Sandy, is Ashleigh Taylor (American Idiot The Green Day Musical) .
And donning the wings as Teen Angel is Australia's most iconic indigenous performer, Christine Anu.
Thomas played the lead role of Scott Hastings in Baz Luhrmann's Strictly Ballroom the Musical, which showcased him as an extraordinary triple threat talent. He toured as featured vocalist with Hugh Jackman in Broadway to Oz and travelled to the Edinburgh Fringe Festival to perform with The Tap Pack. Thomas hit cinemas in 2017's Dance Academy: The Movie after amassing a large fan base from his role as Ben Tickle in ABC's enormously successful Dance Academy series.
Ashleigh Taylor has recently returned from New Zealand after starring as Lillith in the world premiere of Pleasuredome the Musical, directed by Michael Hurst. She featured in the cast of Green Day's American Idiot for its Australian premiere and subsequent tour in the role of Heather.
In a unique twist, Australia's most iconic female Indigenous performer, Aria Award winner, Christine Anu, will don the wings as Teen Angel.
"Teen Angel is traditionally played by a male, but we really wanted to mix things up in this new production," says producer Tim O'Connor.
"Teen Angel appears when Frenchy has just dropped out of beauty school and is feeling lost and looking for guidance, and we couldn't think of anything more fitting in 2018 than for that advice to come from a kick-ass female! And really, you can't get more kick-ass than Christine Anu. She's an Aussie legend, and we're so pleased to be welcoming her into the cast."
Starring as the Pink Ladies – Ruby Clark as Rizzo, Stacey de Waard as Frenchie, Lauren McKenna as Jan, Emily Monsma as Marty, and starring as The T-Birds – Chris Geoghegan as Kenickie, Ethan Jones as Doody, Michael Nunn as Sonny and Josh Whitten as Roger alongside a mass ensemble of over 700 young Perth performers.
The ultimate party musical features all the favourite hits including; You're the One That I Want, Greased Lightnin', Grease is the Word, Summer Nights, Beauty School Drop Out and Born to Hand Jive.
Grease is the timelessly funny story of 1950s teen love, cliques, and peer pressure. Join your favourite Rydell High students, Danny & Sandy, The T-Birds and the Pink Ladies along with a cast of hilarious characters as they jive and bop their way to Graduation.
Grease – The Arena Experience will be at RAC Arena on Saturday 19th January. Tickets are on sale now from www.greasearenashow.com or www.ticketek.com.au
Source:- Media release