Guys Like You – the new Project-X Forum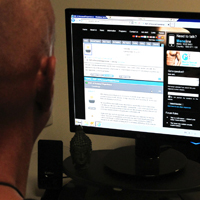 Project X has launched a new online forum for guys to communicate with each other on topics that matter to them.
The forum covers areas as diverse as sexuality, sexual health and coming out.
It is designed as a safe online space for men to voice their ideas, experiences and opinions.
'Peer learning is a very effective way for anyone's learning.
In the technological society of internet-based social networking, the Project-X forum takes peer-based learning and puts it in a contemporary context', said Diverse Sexuality Health Promotion Services Manager, Mark Reid.
'By interacting with each other and hearing stories that resonate with them, guys feel less isolated and can deal with stigma and discrimination in their lives. We hope that by providing a safe environment for them to explore issues in an open forum, guys will be encouraged make better life choices and reduce the possibility of putting themselves at risk physically, emotionally and sexually.'
The forum trial period has run for a few months. M Clinic clients, WA AIDS Council-run workshop participants and men who have accessed the WAAC-based peer support and counselling services have been encouraged to enter the forum to further their development towards a healthy self-awareness.
Steve Fragomeni
WA AIDS Council
To visit the online forum click here.<
***