Hands up, who remembers Lana Pillay?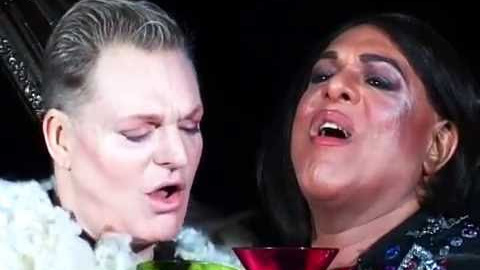 Erasure singer Andy Bell is about to release a remix version of his solo theatrical project 'Torsten The Beautiful Libertine'. The new remix collection is titled 'Variance' and the single 'Queercore' has been remixed by Matt Pop.
Lo and behold, who is it teaming up with Bell on the new version of the track? It's '80s underground pop star Lana Pellay! Who is now spelled as Lana Pillay.
Back in the mid '80s Lana Pillay scored a Top 40 hit in Australia with her tune 'Pistol in My Pocket'. Pillay followed it up with the provocatively titled tune 'I Can Make a Man Out of You'. The singer often appeared in outfits designed by Australian performance artist Leigh Bowery.
The camp new collaboration opens up with a reference to that hit from 30 years ago. "Did you expect to find a pistol in my pocket after all these intervening years?" Pillay sings.
Bell hits back with a question about whether the drag star is still get residual payments from her appearances on '80s comedy show 'The Comic Strip'.
Check out the sweet slice of Hi-NRG dance music below.
Correction: This article originally suggested that Pillay had identified as a drag performer. We have changed this based on feedback from the singer's fans who highlighted Pillay identifies as both male and female genders. OUTinPerth apologises for any distress caused by this inaccuracy.