Happy Harvey Milk Day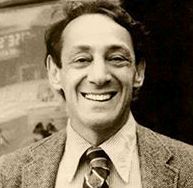 Today stands as Harvey Milk Day, a day where internationally we celebrate one of the first pioneers of LGBTI rights stemming from the US.
Milk has received worldwide acclaim for his brief time in politics; he became the first openly gay man to be elected into public office, in 1977 he won a seat on the San Francisco Board of Supervisors.
Serving for almost 11 months, Milk is known for successfully improving the rights of LGBT Americans by passing gay rights ordinance in San Francisco. Milk was assassinated on May 27 1978 alongside Mayor George Moscone, he is now considered a martyr for his work regarding the queer community.  
The civil rights leader believed public education and dialogue was imperative to his life's work, this is promoted during this day, held on the day of his birthday.

In 2002 Milk was labelled 'the most famous and most significantly open LGBT official ever elected in the United States.'
He was also posthumously awarded the Presidential Medal of Freedom in 2009.
Harvey Milk lived from May 22 1930 to November 27 to 1978. His legacy still lives on worldwide, today he is commemorated.
Find out more about Harvey Milk Day and the man behind the legacy here.
Watch Democratic Leader Pelosi discuss Harvey Milk Day below.
Nadine Walker