Review | Hell in Heels put the fun back into fantasy with 'Exotica Erotica'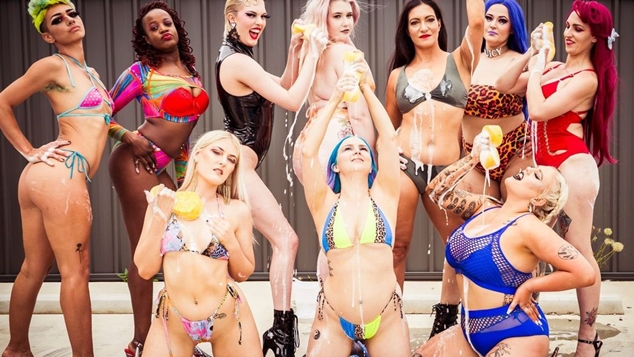 Hell in Heels: Exotica Erotica | ★ ★ ★ ★
Hell in Heels is an Adelaide based performance troupe that travels west each year for Fringe in their mission to transform the landscape of adult entertainment.
The Hell in Heels mission statement details their desire to strive for inclusivity within the adult entertainment industry by spotlighting performers who wouldn't ordinarily get a look in at most stripping or burlesque venues.
The journey begins with the audience being greeted warmly by local Mistress of Ceremonies and burlesque star Sugar Du Joure, a neon pink super stripper who ensures that the audience is sitting comfortably and ready for the ride to come.
In the words of Miss Du Joure this is a show about sexual freedom of expression. Rather than a standard strip-tease each themed segment explores the individual fetishes with tongue placed firmly in-cheek, the show brings a sense of humour with that cuts through any potential awkwardness at such up close proximity to full frontal nudity.
Audience participation is actively encouraged under the proviso that the more you clap and cheer, the fewer items of clothing remail on the stage. One audience member was inspired to join in the fun and had her skirt around her ears and twerked the world for all she was worth.
All I all what this award winning troupe of sassy bad ass performers delivering 90 minutes of fetish and fun.
Running the gauntlet from a set menu Exotica Erotica aims to cater to whatever your kink is that includes BDSM, food (Red Rooster potato and gravy will never look the same again), Shibari, latex, Furries and more.
Last but not least is Sploshing – performed in a suspended Perspex martini glass, the key ingredients are splashing and licking. The audience seemed prepared to experience first-hand a Donald Trump in Moscow situation, as Sugar Du Joure introduced the final fetish for the evening teasing a golden shower.
Fortunately (or not depending on what blows your hair back) the said shower didn't materialise… but that didn't stop the dancer who goes by the name of Six Inch Minge making a splash.
Exotica Erotica's season has ended, but check out what else Fringe World has to offer here.
Clinton Little is an arts and pop culture writer and enthusiast and long-time contributor to OUTinPerth.
---

You can support our work by subscribing to our Patreon
or contributing to our GoFundMe campaign.