Horse McDonald is Ready to Play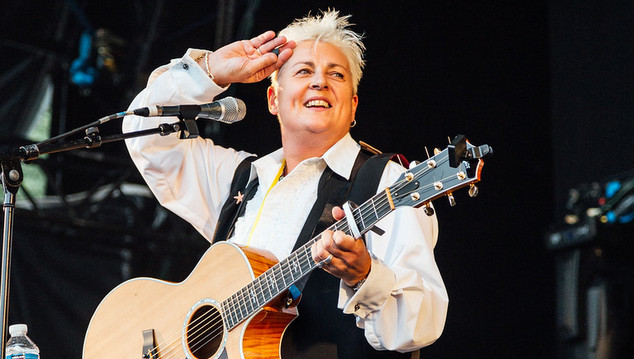 Scottish singer Horse McDonald is visiting Perth this week. It's her first trip to Australia since 2012. The singer chatted to OUTinPerth about her current album, what inspires her and what keeps her coming back.
"I did two years in a row. I did a few different places in Perth, Melbourne, Sydney and This Time I'm coming over with Feast Festival. So I thought I would still come back to Perth and do that as well." she explained.
"I think the biggest thing about Australia is it's just so far away and vice versa, we are so far away from you, but you can't just drop in, and if you are going you should try and do a lot of things if you can."
Horse has got some family in Australia, and said she always feels at home performing here.
"The thing about Australia is there are so many families who've told me their ancestry is probably Scottish anyway, or international because you didn't start off from there, most often, did you? So when I do go somewhere like Australia you feel like you're speaking to expats. I hope there'll be some expats."
Having made 9 albums, it's no surprise that Horse's writing has developed as she's gained experience in life.
"The one thing that is becoming apparent as I grow older is that the songs that I'm writing are, not deeper, but more mature in terms of my experience in life. Both parents dying, relationship breakups, children, marriage, a couple of bad health situations."
The singer enjoys a close relationship with her fans, something that she's recently come to appreciate when reflecting on how much her music has featured in their lives.
"Now I have fans passing away, fans that have followed me for a long time. I find that personally quite touching and moving. There was a fan recently, her daughter got in touch, said she'd passed away and I was surprised by my reaction to it. I think a lot about my fans but at the same time, I hadn't realised quite how important they were to me, and there was a kind of moment where I was like 'Oh' and I stopped in my tracks." She explained.
"What was really beautiful was a couple of days after the funeral they sent me some video footage of everyone at the service singing her favourite Horse song. I got that and that was me gone. It was so moving that you can create something out of the ether and pass it on and it can mean so much to someone. It's shocking and surprising and wonderful all at the same time."
Horse said she's grateful to have fans that have supported her for decades, and that nine albums on, she's pleased with the trajectory of her musical career.
"I know that the music means an awful lot to people. When we were first producing records when we were signed to Capitol and the first singles 'Forgive' and 'Careful', that whole moment in time there was no k.d. lang, there was just me at that point and the pressure, all those different things. If something had gone really big at that point I don't think I would be, this length of time on, working on my tenth album.
"I think that if you look at most artists who reached that trajectory and really go to that high level, they always peak. And generally it's after one album or two albums. And you don't know if the quality of the music or the quality of the work is as high, because they lost that excitement, they lost whatever it was that they had to begin with, and for me I'm still exploring. Because I've been parallel with the music industry."
In her exploring, Horse has become accustomed to her music taking on a life of its own.
"When you write a song , it's pretty much come out of you and it's got all of your characteristics and your reasons for writing it and your thoughts as you wrote the thing, so it maybe comes out as a red-haired baby, and then someone else has that child or has that song, and it's become a black haired baby, for them. It becomes whatever someone wants it to be. People say 'What's that song about?' and I can sort of say what it's about but someone will go 'Oh, I thought that was a love story'. Well if that's what you think it's about, that's fine.
Horse discussed her collaboration with actor and singer Heather Peace.
"I've known Heather before and I thought 'would she be interested in writing?' so we did a couple of songs together. And one of the songs we did, not long after we'd written it, when she was in Glasgow I went down and sang the song with her and it was funny because we'd never done the song together before [laughs] It was fun, it was a lot of fun. We had a good laugh."
Horse said that when she sits down to write a song, she doesn't set out with a message or a moral she wants to express but rather follows the music instinctively.
" Because I'm a singer as well as a writer, the feelings come from within me and the sounds and the noises become words. It's almost strangely like a sort of fog, which starts to come together when I start to work on the song. It's always the melody first, that comes from out of my body and it's almost like breathing something out. This is probably far too deep an interview. [laughs] You probably need to get yourself a glass of wine."
Horse McDonald is performing alongside Nat Ripepi at the Ellington on Thursday November 6th at 7pm, and at Adelaide's FEAST Festival at 5pm November 16th at Fowlers Live Lion Arts Centre.

Sophie Joske