Il Divo – amazing voices, timeless hits, terrible staging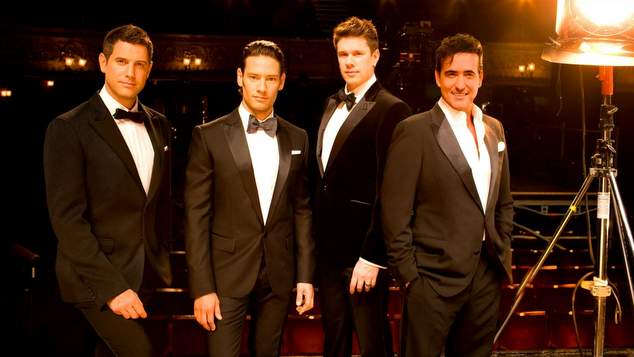 Il Divo – The Timeless Tour | RAC Arena Perth | 15th October | ★ ★ ★ ½ 
Pop-classical crossover group Il Divo commended their Australian tour with a show at the Perth Arena on Tuesday night. Over the last 15 years Sébastien Izambard, Urs Bühler, David Miller and  Carlos Marín have built up a loyal legion of fans who embrace their operatic takes on well known songs, from the classics to the latest pop hits.
While the combination of four powerful voices and an orchestra often shine a new light on well know tunes, and the group's trick of singing them in Italian, Spanish and French means you find yourself listening to the melody and being captured by the romance of the music, their Perth show had some challenges.
The show was opened by much loved Australian singer Marina Prior. She worked her way through a combination of show tunes, selections from Phantom of the Opera and Cats, alongside a medley of Celtic flavoured songs and opera numbers. It was a thrill to hear Prior sing Andrea Bocelli's Con te partirò.
Prior's vocals however were echoing around the auditorium, bouncing back across the cavernous arena. With an audience that only filled a third of the stadium, the upper echelons were curtained off, there were lots of empty seats. I've been to other shows at the arena that weren't full capacity, but this was the first time I've experienced bad sound at the venue.
Il Divo took to the stage in front of a giant video screen that was filled with footage celebrating their successful career and promotional images for their latest album Timeless.
One by one they took stepped into the spotlight, one, two, three….. and one of them was left in the dark. A follow spot operator only being able to located 75 per cent of the performers on stage would be a recurring challenge throughout the show.
The quartet kicked things off with Hola, their Spanish take on Adele's hit. As they progressed through their set, the fun challenge was to pick the song when the lyrics were almost always in other languages, Richard Marx's Right Here Waiting, Robbie Williams' Angels and Come What May from Moulin Rouge were delivered at full force.
Throughout the show each singer had a solo moment in the spotlight, Urs Bühler performed a excerpt from Mozart's The Magic Flute, Carlos Marín said his love of music began when as a child he saw Mario Lanza singing Granada, Sébastien Izambard sang a song he'd written himself,-  Kingdom Come features on his recent solo record – and David Miller delivered a thundering version of Vesti La Giubba from Ruggero Leoncavallo's Pagliacci. 
The show was filled with the recognisable melodies of My Heart Will Go On, I Will Always Love You, What a Wonderful World, Smile, Windmills of My Mind, Somewhere and The Way We Were. For the most part the delivery of four powerful voices was impressive and moving, but some songs didn't benefit from the powerhouse treatment. Elvis Presley's Love Me Tender is a song that works better when it's delivered quietly rather than bombastically. Some of the more upbeat songs were less impressive.
Oddly the show has a troupe of dancers, they appeared about six numbers in to do some interpretive dance to John Legend's All of Me. Throughout the show they reappeared for flamenco moments and torch song dramatisation. They seemed to be from another time, whatever happened to the Natural Seven from The Saturday Show?
They didn't add anything to the show, and as they weaved their way through the performers and orchestra you wondered if they couldn't have given them more of a space of their own. With the lighting operator struggling to keep track of four singers on stage, the dancers were often dark shadows moving through the musicians.
In between the songs the foursome had some banter with the crowd, but it was overly scripted and felt like a very fake interaction, the jokes were old, tired, and groan inducing.  After closing off with Somewhere from West Side Story, the group quickly returned for an encore of Unbreak My Heart and My Way. Their loyal fans rewarding them with a standing ovation.  
Great songs, awesome voices, cavernous echoes, bad lighting and odd dancers. Close your eyes though, the sound of their voices was faultless.
Graeme Watson