In Proximity – James Berlyn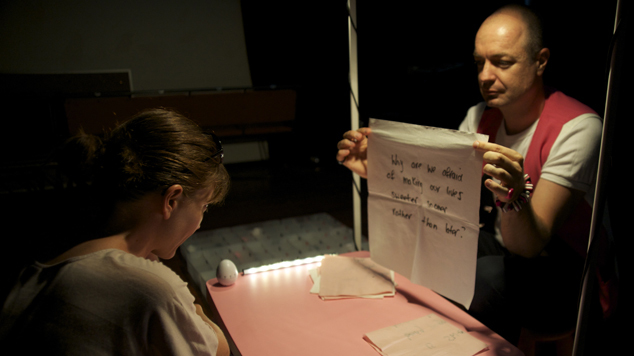 Aside from his work in Elektra, James Berlyn has been keeping himself busy; creating a piece for The Conservatorium, currently showing at Paper Mountain; as well as co-curating and performing in the Proximity one-on-one performance festival. Proximity, which is part of the Fringe World, features three programmes of four works created especially for an audience of one.
Proximity is going gang busters and I'm really proud of that!
I'd been touring my one on one show, Tawdry Heartburn's Manic Cures around the country and I wanted to make some more work and a context in which to do it… so I had a crazy idea and then I worked with some really brilliant people, Sarah Rowbottam, my co-curator and Kelli McCluskey from pvi collective, our curatorial peer.
Basically, with no government funding we have put on a festival. We have had incredible support from The Blue Room and from Pozible – which was Sarah's idea – which is gob smacking. We've made something that's never been seen in Australia before, I mean yes there's been people doing one-on-one work but there's never been a dedicated festival.
There are three programmes, Sarah, myself and Kelli mentored four artists each we helped them through… the ones we selected, in shaping the work. There's a mix of theatre, dance, live art, performance art and each programme has more entertaining work and more challenging work.
It is literally you and one other person in the room and the work is made explicitly and expressly for you and each performance is absolutely bespoke.
There is this kind of extraordinarily semi-permeable membrane between you and the audience member that is unlike a black box or large crowd experience the performance shifts and is determined by the relationship between you and the audience member. I love it – it's taught me so much about what I think I'm doing where I've come from and where I think I'm going as an artist.
The Blue Room is a really exciting place to be on a Sunday afternoon amazingly diverse group of passionate people who are all interested in process and each other's process. I think the long term spin offs are extraordinary…
The Proximity festival is on at the Blue Room Theatre as part of the Fringe World festival. See www.fringeworld.com.au for details
Written By Zoe Carter