Inaugural FOMO by Night shows promise for future events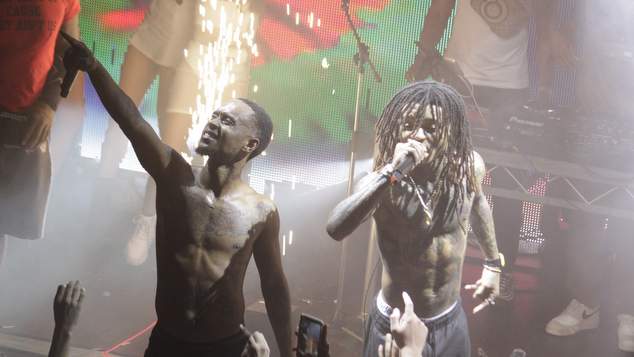 This month Perth joined FOMO as a tour stop. Although the line up didn't quite compare with what the festival had to offer in other cities it was still an interesting night hosting a variety of different artists and genres. There were six musicians performing for the night with a set of around 45 mins each.
The event took place at Villa Nightclub after rapper Lil Pump had to pull out of the line up. The venue change seemed to have an impact on the number of people that attended. As prior to the event being held at Villa it was originally an all ages festival at Red Hill Auditorium. The vibe wasn't exactly your typical festival but being in a smaller club created the opportunity for artists performing to engage more with the audience.
Opening for the night was Australian singer Your Girl Pho. Being the first up on stage is never easy but YGP owned it and embraced the awkward crowd that was slowly gathering inside. To be fair, the event kicked off at 6.30pm in a venue people don't usually come to prior to 10pm. I had heard some of her songs before watching her perform and had wondered if her voice was as good as it sounds in the digital realm. Sure enough she blew me away, I wasn't expecting such a strong and beautiful voice. Accompanied with her humble and happy vibes that she was giving on stage. Watching Your Girl Pho perform is something to be seen and heard.

Next up on stage was MIMI a female DJ from Melbourne. She was determined to get the party started and she did just that. MIMI created an upbeat and fun atmosphere, mixing a range of old and new songs; from Drake to Spice Girls she had a little something for everyone. Her hands were all over the deck mixing and changing up beats that got the crowd ready for what the night had to offer.
We saw Arno Faraji up next and to be honest I didn't know what to expect as I hadn't heard of him before but he has a totally different vibe to those before him. Arno's music is very much a mixed sound of old and new hip hop. This Perth based rapper has high energy on stage and kept the crowd engaged.
As the night went on, more people were gathering around the stage for entertainment and Carmourflage Rose provided. It was obvious he had more of a fan base than the earlier artists as the crowd chanted for him to perform certain songs in a request like manner. By this point the audience was amped and jumping to the music. This guy has bars to match the beats and didn't disappoint with his performance.
When San Holo came on stage I have to admit I had higher hopes for his set knowing some of his mixes but for me his presence on stage didn't really compare with the other performers and left me thinking maybe he should have played earlier on because even though there was still a crowd and people were dancing, they seemed to disconnect from the high energy vibes that were precedent to his set. Not that his music isn't good, don't get me wrong I just think it would have been more enjoyable if the genres didn't change so drastically between the hip hop sets.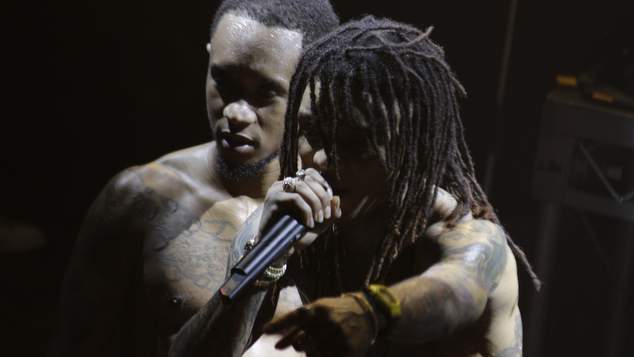 The time finally came for Rae Sremmurd to take the stage and it's safe to say this was a performance not to be forgotten. Slim Jxmmie lowered himself off a platform above the stage and the guys jumped straight into "No Type" which, in my opinion was a great choice to begin their set, being the song that got their career started. It's always hard to know whether rappers are going to sound the same when performing live and I can say with confidence that Rae Sremmurd executed each of their songs to a T. Throughout the entire performance they had so much energy, rapping, dancing, stage dives, interacting with the crowd and embracing the "shooie" by having a shot out of a sneaker. Rae Sremmurd played all their biggest hits and kept the audience hyped and begging for an encore.
Perth FOMO was a great event to attend, although the artists delivered and were very entertaining it wasn't exactly a festival but it was such a good atmosphere for small club. Hopefully we see it again next year with a bigger line up and bigger venue.
Cassandra Archer
---