Indelible Erasure: An interview with Vince Clarke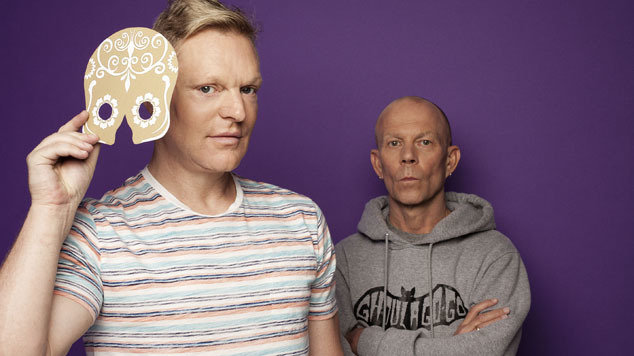 Erasure's Vince Clarke is no one trick pony. From his work with Depeche Mode, Yazoo, The Assembly and more, the multi-talented musician has lost no momentum after over 30 years in the industry. We chatted to Vince about his expansive career.
When did you first get into music? What was your first step?
When I was a kid I was playing violin at school and then I moved on to guitar. It was an after school class I joined. Then I just got hooked on music. I heard the songs of Simon and Garfunkel actually and that's what turned me onto writing my own material.
I think a lot of fans would be surprised to learn that you actually start writing with the guitar, rather than a keyboard or computer.
Yeah, we still write mostly with guitar but also with piano. We try and keep it simple because the idea is not to confuse the technology with the melody so we try to write a good tune on guitar or piano then we convert it into electronic music.
Putting Erasure together, you put an ad in the Melody Maker to find a collaborator and you met Andy Bell. What exactly were you looking for?
The most important thing was someone that could sing with character. We did a lot of auditions over a couple of days but for us, myself and the producer at the time, Andy came before us and shone because he had a real individual style. We didn't need someone that could sing well, we needed someone that had a personality and Andy fit that bill.
Andy gave an interview in the UK recently saying the two of you have a great relationship but you only speak a couple of times a year – he also said you had retired from public life and you don't do interviews anymore…
Well! He's only saying that because he has to do all the interviews.
Do you feel guilty? Is that why we're speaking today?
Andy and I aren't really show-biz type people, you know? We kept our private lives private, I think that's all it is.
As private people, do you find you are a natural performer or it's just part of the music business?
Andy twists my arm and forces me to dress up in drag! (laughs) I'm not a natural performer at all, which is why it's an amazing thing that Andy and I got together – because Andy is! When he goes on stage, he's a natural but that's not my personality at all.
A lot of your work features collaborations – I noticed you have a new track with Jean-Michel Jarre.
Yeah! That was really cool actually. He came round my studio in New York – he's a super nice guy, you know – I was totally flattered to be asked to do this thing. He's definitely a pioneer and I was totally blown away.
Hey, can I tell you a joke?
Sure!
You really need to think about this one, right?
Okay.
I've recently decided to sell my Theremin.
Oh yeah?
Because I haven't touched it in years.
(laughs) Do you really have a Theremin?
Of course! Don't you?
Is it something you use a lot?
No! It's bloody terrible! I just bought it because it's cool, you know?
Graeme Watson
'Always: The Very Best of Erasure' is available now in stores and online.