Is It The End of the Homosexual?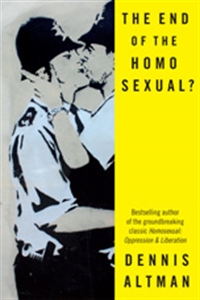 When Dennis Altman wrote the book 'Homosexual Oppression and Liberation' forty-two years ago, it was hailed as a groundbreaking insight into the politics and struggles of homosexuality during an era where being queer was rarely discussed.
Hailed by 'Time' magazine as "among the whole tumble of homosexuals who have 'come out of the closet', perhaps best among these accounts is this book by Dennis Altman", it seemed only just that Altman write another installment discussing the queer climate 40 years on.
Altman spoke to OUTinPerth from Melbourne about developments during the last four decades, and his book 'The End of the Homosexual'.
"Things have changed radically, not necessarily as we might have expected but they never do. It strikes me as the majority, but not all, young gay and lesbians today in Australia, life is a lot better", he said.
When asked to summarise his latest book, he explained,
"It's essentially pretty clear, its one persons attempt to try and make sense of what has changed, what may not have changed in 40 years both in Australia and globally and obviously it is one persons perspective and I'm very conscious of that.
"You'll notice there are lots of end notes certainly I've read things a lot of things but obviously to some extent it's dependent on memory and memory is notoriously unreliable". +
Falling into discussion about the growing gap between queer rights in developed and developing countries, Altman discussed the power of the internet and how inflated media coverage can sometimes have a negative impact.
"The internet has an enormous importance, I know in a very personal way what is going on at the moment in Cameroon because I have friends there and they are posting things, what they are posting is very scary, ten years ago that wouldn't have happened.
"There is this huge global problem of an increasing gap between what we're experiencing and what they are. The situation faced by our sisters and brothers… I don't think gay solidarity should stop at the waters edge.
"The problem as they say is 'what does one do?' making grand gestures is often counterproductive and may make things worse for people".
The author wasn't sure where LGBT rights will be in another 40 years.
"One thing I would say is in 40 years I would be extremely surprised if people are using the expression 'LGBT' – which I think is very much a particular phrase that was coined in the US and has become a global term that actually covers a whole range of things that are not necessarily all the same.
"I don't know what it will be like in 40 years time, but I don't think it'll be like anything we've imagined".
Pointing out that WA doesn't get much of a mention throughout the book, the activist promised he will be spending more time in WA, pointing out he will be in Perth for the writers festival in February.
Dennis Altman's book 'The End of the Homosexual' is available for purchase online and in book stores now.
Nadine Walker