Israel Folau blames same-sex marriage for drought and bushfires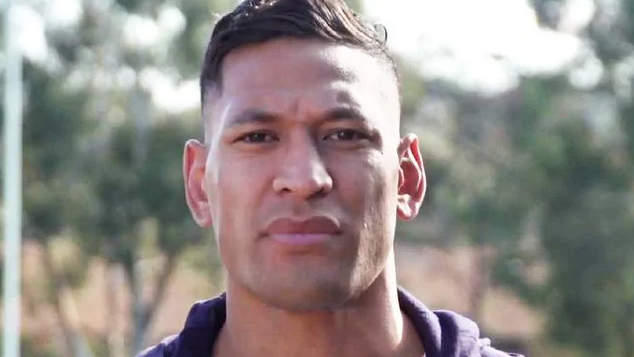 Sacked rugby player turned religious leader, Israel Folau, hasn't held back in his latest sermon taking aim at Australia's LGBTIQ+ community and supporters of abortion.
Speaking at The Truth of Jesus Christ Church in Kenthurst north of Sydney Folau described the deadly bushfires as God's punishment for allowing same-sex marriage.
"The message I mainly want to speak about today is mainly for the people who are outside within the world," he told parishioners. "I've been looking around at the events that have been happening around Australia in the last couple of weeks with the bushfires and the droughts and all these things that are currently happening."
Folau told the congregations he was sharing his message "out of love" but put the blame for the natural disasters at the feet of the LGBTIQ+ community and supporters of abortion.
Folau quoted from Isaiah 24, which says: "The earth is also defiled under its inhabitants, because they have transgressed the laws, changed the ordinance, broken the everlasting covenant. Therefore the curse has devoured the earth, and those who dwell in it are desolate. Therefore the inhabitants of the earth are burned, and few men are left."
Folau then pointed to marriage equality laws and abortions and said "they've changed the law, they've changed the ordinance".
"I just want to see the events that have happened here in Australia in the last couple of years," he said. "God's word says for a man and a woman to be together, one man and one woman to be in the covenant of marriage together.
"Abortion, it's okay to murder and kill unborn children and they deem that to be okay.
"Look how rapid these bushfires, these droughts, all these things have come in a short period of time, do you think it's a coincidence? God is speaking to you guys — Australia, you need to repent and take these laws and turn it back into what is right by God."
Folau went on to say that God was sending a message to his followers via the bushfires and drought, but he would not be able to share it because Christians are shit out the public debate in Australia.
"To be a Christian and stand up for the truth seems like a criminal act compared to people who do drugs, sexual assault, go and murder, the world will accept you. As soon as you stand up and stand for the truth and proclaim the truth, they will try to shut you out." Folau said.
The Reverend Peter Kurti from the libertarian think tank The Centre for Independent Studies was appearing on Sky News when the story about Folau's sermon broke in the Daily Telegraph, and was quick to offer a different religious perspective.
Reverend Kurti said if God was sending a message about same sex marriage or abortion legislation he would set parliament house in Canberra of the state parliament in New South Wales ablaze.
"I think it's completely wrong, if God really was going to punish us for changing the law on abortion, or changing the law on marriage, it's the parliament houses, the parliament in Macquarie Street or the parliament house in Canberra that should have been target of God's wrath, not the mid-north coast and south Queensland. If God was angry, God's aim is off."
Reverend Kurti condemned Folau's views describing them as "outrageous" and a sign of religious fanaticism. He said respected Folau's right to free speech and religious expression but said his statements were "completely wrong and offensive."
Labor MP Josh Burns took to Twitter to draw a link between the Prime Minister's reluctance to talk about climate change, and the religious anti-discrimination laws that will be introduced to parliament shortly.
"So Scott Morrison won't legislate to address climate change or acknowledge its link to natural disasters. But he will to bring in the 'Religious Freedom' bill to protect ugly discrimination from Israel Folau." Burns posted to Twitter.
OIP Staff
---