Jake Dennis is Ready to Light a Fire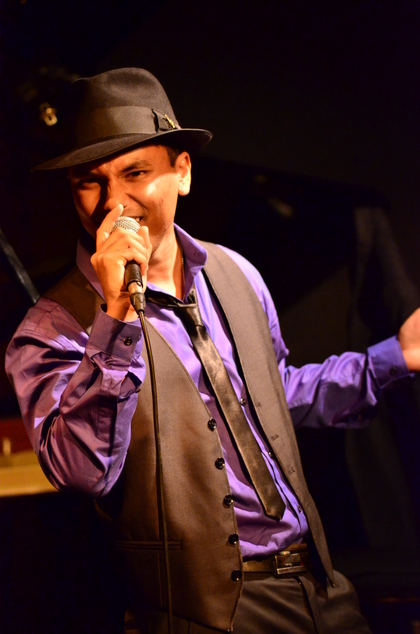 Jake Dennis is excited ahead of his cabaret show opening Downstairs at the Maj as part of its Cabaret Soiree season next week.
Dennis, along with the Mint Jazz Band, is set to deliver 'Like Blown Smoke' a show filled with blues, jazz and funky pop tunes from artists as diverse as Frank Sinatra and Nina Simone, to newer works from Adele, John Legend and Bruno Mars.
Alongside the music is a tale of love, loss and relationships which is shared through storytelling and gutsy poetry.
Dennis told OUTinPerth that if he had to pick one performer that inspired him above all others it would be Judy Garland.
"She was always known for being able to really reach her audience, I really admire performers who can make you think about what's been happening in your life."
Joining Dennis on stage is a cast of talented performers including pianist Mark Cunniffe, saxophonist Alana McPherson, drummer Nathan O'Brien, while Kate Pass will wield the double bass. Overseeing the production in the director's chair is seasoned cabaret performer Rhoda Lopez.
Dennis explains that the crew have several years of experience playing together but they only met Rhoda Lopez recently.
'We came together over the course of two years playing around as a jazz band at places like The Ellington and the X-Wray Café. Rhoda Lopez and I met when I was sent to review her show 'Lorelei', and she's become an acting mentor for me." Dennis shared.
Dennis said the show is about the experience of suffering heartbreak and then having to pick yourself up and go on.
Dennis say although the songs in the show are an eclectic bunch of tunes they all work really well in advancing the story. The band leader says the songs are a good representation of the type of music the collective have been delivering since they first got together.
"We play a lot of the classics," Dennis said, "the songs that everyone has grown to love, their songs that our grandparents enjoyed and we love them too because they have such great melodies and meaning in their lyrics.
"There's also the stuff that we're all listening to on the radio today, the sounds that get us dancing."
Dennis say that both he and the band are thrilled to be part of The Maj's cabaret program and can't wait for the show to open.
'Like Blowing Smoke' is Downstairs at the Maj from Thursday 18th to Saturday 20th September. Head to His Majesty's Theatre to book tickets.