Jason Argenta Talks Volunteer Work in Cambodia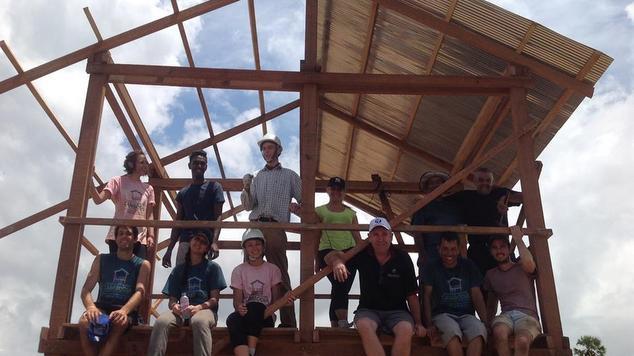 Jason Argenta is a Perth boy living in Siem Reap, Cambodia. He's working with a not-for-profit entitled Volunteer Building Cambodia, working to improve the living conditions of families by providing safe and clean facilities. He told us all about his volunteer work, what inspires him and also give us the info on Cambodia's gay scene.
What inspired you to go to Cambodia?
I was heading to Europe for 3 months and wanted to do something a bit meaningful to kick off my adventure. My 18 year old cousin had been to Cambodia a few months earlier as part of her school Leavers and literally came back speechless. I wanted to see what the fuss was about so I Googled volunteer work in Cambodia and came across an organisation that offered building and teaching placements. I signed up to help build houses for poor families for 6 weeks and teach English in a school for 2. I didn't even want to go to Europe after that, and if I hadn't had my flights and rail pass booked I probably wouldn't have. I'm glad I did, in retrospect, but I knew where my heart lay, and when I returned to Australia in December, I sold all of my things and moved to Siem Reap on New Year's Day.
What kind of work were you doing before?
I worked in Child Protection, caring for traumatised youth who had been removed from their family and working with them therapeutically to help them heal from their trauma. I had not long finished a double major in Psychology and Sociology, and my plan after those initial 8 weeks in Cambodia, was to return and help develop and advance their Child Protection policies (which were minimalist at best, as far as I could see) and continue to help out with the building.
What has been your biggest cultural adjustment in living in Cambodia?
I can't say it has been much of an adjustment for me living here. Surprisingly, I think the biggest culture shock I've had has been in going back to Australia.
What would an average day in Cambodia be like for you?
I wake up in a typical Khmer house that I share with 5 other expats from all different parts of the world. I take a cold shower, if the water is working (if not, it's out the front to the manual water pump with a small dish I use to throw it over myself). I ride off to site or am picked up by my Cambodian counterpart in a tuk-tuk style truck. We spend the morning measuring, chiselling, sawing, hammering, but most of all, sweating profusely. We finish around lunchtime, which is more than enough given the extreme heat of Cambodia. I grab some lunch and head home for a quick shower (or play under the water pump) before heading off to work in a clothes shop til the evening (which pays my bills). Whilst there, I do a lot of stuff on my laptop; help design logos or promote NGOs or edit websites.
It's so easy to lend a hand here, and it's sorely needed. Volunteer fees pay for the projects we carry out at Volunteer Building Cambodia (VBC), so when there are no volunteers we are unable to help poor, local families. In that event, I volunteer at a food kitchen that feeds around 80 children and adults in the backyard of the lady who runs it, and prepare 600+ meal packages to deliver to an extremely poor village nearby.
There are a lot of expats living and working in Siem Reap, and given that it's home to the amazing Angkor Wat temples, a lot of tourists pass through as well. There are amazing cafes, restaurants and bars; amazing culture and locals to hang out with and learn from; amazing, fun activities; and a very active nightlife thanks to the steady flow of tourists. There's a quaint little "gay scene" – a relatively seedy little "gay bar" and others that are "gay friendly" that host amateur 'ladyboy' shows a few times each week. But it doesn't matter where you are or what you are doing in Siem Reap, you're guaranteed to be surrounded by great people that are here doing great things, or the absolutely beautiful locals.
What have you learnt about yourself during this adventure?
I feel like I knew myself pretty well before I left Australia, but one thing I have learnt is probably best summed up in a bit of street art I saw in Europe (which is apparently a quote from Mike Tyson): "Real freedom is having nothing." One of the main differences between Australia and Cambodia is the amount of money each country has that their inhabitants live off. Generally speaking, Cambodian people have absolutely nothing, but they work hard and they are happy. And they would do anything for you – give any of their small possessions or little food they have.
In Australia, I feel as though we have almost too much. We get caught up in the size of our TVs and the colour of our walls. We lose ourselves in all of our possessions and just want more and more. And no one seems to be happy. We have more depression and anxiety, suicide, emotional problems. I was surprised to find myself questioning if we are really any better off than these people who are starving and living in terrible squalor, but whom are so happy and friendly. I feel like we can learn so much from them.
How can people support your work in Cambodia?
You can donate via our JustGiving page – once off, or regularly – our NGO is relatively new and runs purely from volunteer fees and donations. Without these, we are unable to help families in need. You can ask your workplace if they'd like to get involved – do some advertising or fundraising for us, send willing workers as a team-building or giving-back initiative, hold a coffee morning or gold coin donation day, or make a donation themselves.
Or you can fund/fundraise for a build (we do wells, toilets and full house builds) or come and help out yourself! Check out our website for more details  and don't hesitate to contact us for any additional info. We also have a Facebook page that you can "Like" to keep up to date with our current projects.
Graeme Watson