Key Changes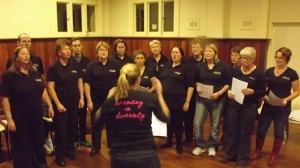 A change is better than a holiday, or so the saying goes. The Gay And Lesbian Singers WA (GALSWA) – who are now in their 19th year of singing – know this, and so in the spirit of change have decided to up the anti with their next appearance, moving from the North Perth to The Fly By Night Club in Fremantle. The showcase they will be presenting? A Change of Key.
'The theme is songs that change the world,' explained Bev Fabb, long time GALSWA member. 'We're focussing on songs that either change society and culture or that created a new direction, musically. So there's Aretha Franklin, some ABBA along with some rock and roll and of course some Lennon and Dylan.'
'There are some smaller ensemble pieces that are still being decided also,' added fellow GALSWA member Jude Comfort. 'We're offering a smorgasbord of songs from across the eras. But we're also moving into a bigger venue and so we're expecting double the amount that would typically come to one of our shows. And plus we have some younger members so there's always fresh enthusiasm.'
Since their formation in 1993, GALSWA (who are a not-for-profit organisation) have proven their strength as a four part choral harmony in both local and national events. They have appeared at Pride Fair Days and Parades plus innumerable community rallies while appearing at national and international events like Out and Loud Choral Festivals in both Sydney and Auckland. They have even appeared as part of the Perth International Arts Festival.
The secret to their success is due, in part, to the passion of Musical Director Claire Williamson-Clay. Her dedication has seen the troupe grow from strength to strength.
'I think for most of us we like to belong to a community, and the choir not only provides that in the context of the gay and lesbian community, but we're also part of a broader worldwide community too,' Comfort explained.
'And on Thursday nights it's a nice place to hang out. We actually do a whole heap of social things together, like going down to Denmark for the Festival of The Voice. And next year is going to be our 20th anniversary so we're planning a big year for that,' concluded Fabb.
A Change of Key will be held Saturday July 7 at Fly By Night Club, Fremantle, from 7pm (doors open 6.30pm). Tickets are available now from www.flybynight.org. 
Scott-Patrick Mitchell