Kylie Minogue's new 'Tension' album track by track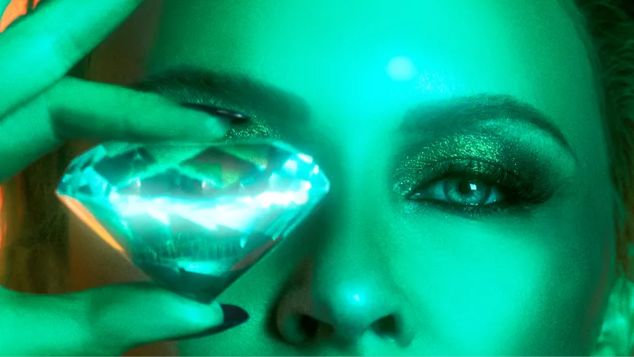 Kylie Minogue's new Tension album is out and getting a positive response from fans.
The album is the sixteenth is Kylie's long career and follows on from popular singles Padam Padam and Tension, the record's title track. The record is filled with electro-pop sounds and marks a notable change from the singer's most recent albums that have focused on classic disco and hybrid country sounds.
Padam Padam
In the hugely successful lead single Padam Padam Kylie promised to be "in our head all weekend", but this earwork has filled our brains for months now becoming one of the singer's most successful releases in years. We've already enjoyed a stack of great remixes of the tune too.
The track is written by Peter Rycroft aka Lostboy and Ina Wroldsen and produced by Lostboy. Apparently, this song came to Minogue towards the end of the recording process and it's the only contribution from this production team.
Hold On To Now
After a subtle start this tune turns into an absolute banger by the time the chorus hits and it just keeps cranking up into a higher gear as it goes on.
It's created by Biff Standard, Duck Blackwell and Jon Green who have a long history of shaping hits for Minogue. They contribute to most of the tracks on the record.
Things We Do For Love
This song was written by Minogue, Stanard, Duckwell and Green alongside British artist Kamille and Anya Jones. It's an upbeat number that has a real early 80's vibe.
Tension
Alongside Padam Padam this is one of the most interesting things Kylie has done since she joined up with Towa Tei and sang about being a font.
It's an unexpected mix of squelchy sounds, manipulated vocals and unexpected twists and turns. It's also got a great video with multiple Kylies, sure she's done that before, but she's did it again!
One More Time
Nope, it's not a remake of a Daft Punk song, but a slice of disco goodness that would have easily fitted on her last album.
You Still Get Me High
Things slow down with this one, but only for a moment by the chorus we're back in party mode. Kylie certainly gets to sing her lungs out on this one.
Hands
This song comes from producer Cutfather who has previously created hits for Jamelia, Westlife and Ace of Base. It's almost a rap tune, something that it new for Minogue. This one might be a future single.
Green Light
Producers PhD, Peter Wallevik and Daniel Davidsen, wrote this alongside Ruby Spiro. PhD previously created Magic for Minogue's Disco album and their association with her goes all the way back to Get Out of My Way in 2010. It's a breezy and catchy number.
Vegas High
Gez O'Connell from Rituals contributes to this tune written alongside Minogue, Stannard and Blackwell. You'd expect this tune will make it into the set list for Minogue's upcoming Vegas residency
10 Out of 10
Fans have already heard this collaboration with Oliver Heldens as it was included on his album a few months ago. The sing-song versus are a bit annoying but the chorus is camp. We give the chorus 10 out of 10.
Story
This is the closing track on the regular edition of the album. It's a fast-paced number with an unusually high-pitched vocal on the chorus that sounds a little like an ABBA song.
Love Train
Nope, it's not a cover of the old O'Jay's hit that Kylie included in her set list for her 1991 tour – and we'd love to hear a studio recording of that! Nor is a cover of Holly Johnson's 80's hit. Instead, this is a new tune written by longtime collaborators producer Sky Adams and writer Megan Cottone.
Cottone previously contributed to many tunes on the Disco album, while Adams produced several tunes on the Golden record. Kylie invites to get onboard her love train, which may be the naffest pick-up line ever. This song has a slight reggaetón sound and is a nice additional flavour to the album.
Just Imagine
This tune is written by Carl Ryden and Karen Poole. Poole was one half of 90's band Alisha's Attic before finding success a songwriter.
She's written many hits for Minogue including Timebomb, Wow, Chocolate, Red Blooded Woman and New York City. She also wrote this year's Eurovision entry for Britain – Mae Muller's I Wrote a Song. 
This one is a bit boring and it's not surprising it's only included as a bonus track.
Somebody to Love
Nope it's not a cover of the old Queen tune. Here we get another easy-going tune which is instantly catchy and filled with positive vibes.
Graeme Watson 
---

You can support our work by subscribing to our Patreon
or contributing to our GoFundMe campaign.