LGBTI activist arrested in Poland over religious rainbow images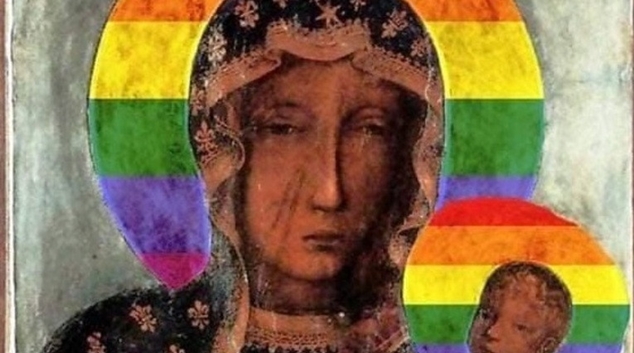 A 51-year-old woman has been arrested in Poland after distributing images of Our Lady of Czestochowa (Virgin Mary), edited to include the rainbow colours of the LGBTI+ flag.
Police entered Elzbieta Podlesna's Warsaw apartment on Monday morning, reportedly finding several copies of the image. Prosecutors ordered the raid on the apartment after finding the image on the streets of Plock, north of the capital.
Poland's Minister of Interior Joachim Brudzinski tweeted that "Polish Police stopped a person suspected of profaning the image of Mother of God Czestochowa in Plock."
"This person was already under surveillance for a few days, but we had to wait to arrest her since she was abroad, and today she will be charged with Article 196 CC"
"Thank you to the Police Police for an efficient campaign with the identification and detention of a person suspected of profaning the image of the Holy Mother for centuries for Poles. No fool of freedom, nor tolerance has the right to offend the feelings of believers."
Political scientist and LGBTI+ activist Remy Bonny says the arrest is an act of political persecution.
"The start of criminal procedures against the 51-year-old LGBTi activist in Poland is an all time low for European LGBTI politics," Bonny said in a statement.
"During the eighties, the Polish secret police made lists of homosexuals. The acts of today seem to come very close to what happened before the fall of communism. This is a direct, but illegal, implementation of the Russian anti-propaganda law."
Podlesna had been overseas on tour with Amnesty International, raising concerns about Polish law in Belgium and the Netherlands.
Amnesty International's Regional Europe Researcher Barbora Cernusakova said the organisation "are extremely concerned to hear that Elzbieta Podlesna, a Polish human rights activist, was arrested and detained for several hours on spurious charges yesterday upon her return to Poland from a trip to Belgium and the Netherlands with Amnesty International."
"Given the lack of evidence of a crime here, we can only see that Elzbieta has been detained for her peaceful activism. Amnesty International calls on the Polish authorities to stop harassing peaceful protesters and activists in Poland, including by arbitrarily arresting people who stand up for their rights."
"Restricting activists from freely expressing their views in the country is unlawful and must stop immediately."
OIP Staff
---