LGBTI rights activists lobby Canberra politicians on religious freedom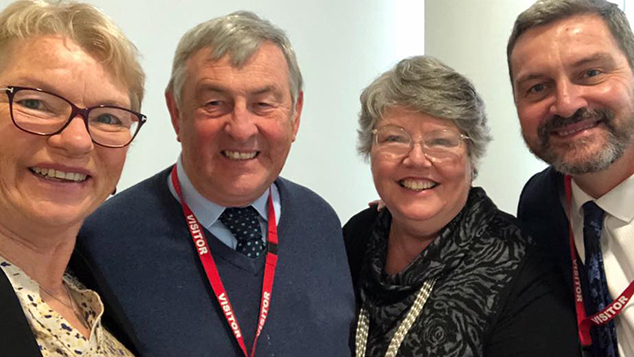 Shelley Argent, the national spokesperson for Parent and Friends of Lesbians and Gays (PFLAG) has joined Rodney Croome and Sydney PFLAG Dad Geoff Thomas in Canberra to lobby politicians over proposed religious freedom laws.
Argent said the message Rodney Croome has been delivering to MPs has been straight forward.
"Remove existing exemptions allowing anti-LGBTI discrimination, don't allow legal privileges for discrimination and hate speech in the name of religion, don't weaken strong state discrimination laws like Tasmania's, consult with the LGBTI community at every point, stop the religious culture war that is putting the mental health of LGBTI Australians at risk, and guarantee all rights and freedoms through a Human Rights Act."
"In short, the Parliament must enact equal rights for all, not special rights for some." Argent said.
Argent highlights that many prominent religious leaders have spoken out about the suggested new laws and argued that they are not necessary.
"Rev Frank Brennan from Religious Review, Rev Peter Stuart the Anglican Bishop of Newcastle and the Anglican Dean of Brisbane Rev Peter Catt all agree "religious freedom" changes are not necessary.
"If the changes are made we fear not only will LGBTIQ couples be negatively affected but heterosexual couples in de facto relationships, single mothers, divorcees or any other individual or group that do not fit the chosen ethos of religious groups in business and education facilities.
"Additionally, there is an increase in the number and severity of calls to helplines from stressed LGBTIQ people, which shows how much anxiety this debate is causing." Argent said.
The longstanding campaigners say they are calling on non-government MPs to speak uop about the issue and take a stand.
"We are calling on Labor, Greens, smaller parties and independent MPs and Senators to no longer remain quiet and show their support. We fear the present government will produce nothing positive for the LGBTIQ community from any legislative changes and so reassurance is needed to ensure fear mongering is minimised and there is support for minorities." Argent said.
Attorney General Christian Porter has described the proposed legislation as having gone through at least 50 drafts. While it has been shown to coalition MPs, and some conservative family groups, LGBTIQ+ organisations have yet to see the details of the legislation.
When OUTinPerth spoke to Labor leader Anthony Albanese earlier this month, he also confirmed that he had not seen the proposed legislation.
OIP Staff, image: The Greens' senator Janet Rice meets Thomas, Argent and Croome.  
---