LGBTI rights advocates head to Canberra to ask for protections for students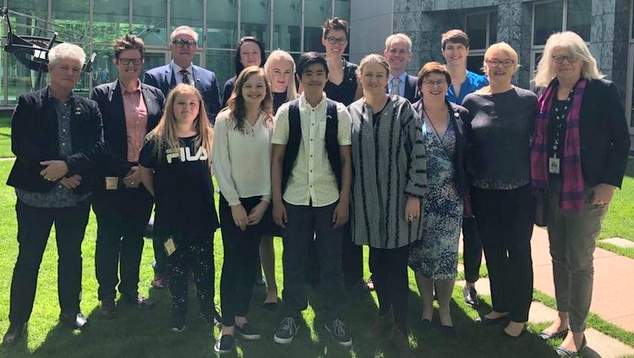 LGBTI rights advocates, parents of trans and gender diverse children, teachers, leaders and allies have headed to Canberra today to call on parliament to amend outdated anti-discrimination laws to ensure all lesbian, gay, bisexual, transgender and intersex people are treated with fairness and equality.
Following the recommendations of the Ruddock Review Into Religious Freedom being leaked to the media the Morrison government has vowed to remove laws that allow students be expelled from school if their gay, but advocates for LGBTI rights are still concerned that children might be discriminated against because they are transgender or because their parents are divorced, unmarried or in a same-sex relationship.
Karyn Walker from Parents of Gender Diverse Children said transgender children needed to be assured that their education would not be interrupted.
"We know that faith-based schools endeavour to support the individual needs of all their students, and hope that they extend this love, acceptance and compassion to trans and gender diverse students in their care. All students should be respected and included, and transgender students ask for nothing more."
"Parents and transgender students need to feel safe that they can continue their education where it began without threat of exclusion or discrimination."
"Transgender children are born into all kinds of families. Families that have different values, races, cultures, faiths and socio economic status. It is our job as parents to support, love and nurture our children, and to do that without fear of exclusion from schools that align with our faith and values." Walker said.
Anna Brown, Director of Legal Advocacy with the Human Rights Law Centre and co-chair of the Equality Campaign said Australians had made it clear that they would not tolerate inequality.
"Australians voted for fairness and equality this time last year, not discrimination against LGBT people. Kids in schools should be focused on classes and their homework, not living in fear of mistreatment because of who they are."
"All children should be accepted for who they are at school. Every person should be able to do their job without having to hide who they are. Every school should be inclusive of all types of families. We should all be able to access publicly available services free from discrimination."
"The very genesis of this inquiry was the deeply flawed idea that equality for LGBTIQ people somehow poses a threat to religious freedom. We reject this utterly, and remain concerned that conservative religious forces within the Coalition will be extracting their 'price' for marriage equality. There should be no price paid for equality."
OIP Staff
---