LGBTIQ community leaders call on MPs to vote against plebiscite
Nearly 200 LGBTIQ community leaders are calling on members of parliament to vote against plebiscite legislation and work together for a free vote on marriage equality.
Community members from across disciplines from sport to the arts, religion and business have come together to declare their opposition to a public vote on marriage equality.
Signatories include writer Benjamin Law, Olympic gold medalist Matthew Mitcham, comedian Simon Hunt (aka Pauline Pantsdown), former president of the Australian Medical Association Kerryn Phelps and Uniting Church minister Reverend Peter Weeks.
The declaration urges parliamentarians to drop the proposed plebiscite on marriage equality, citing concerns that the amplified debate will be harmful to the community and that MPs are not bound to vote in line with the will of the people.
A list of signatories, along with the declaration, will appear in the Canberra Times, Sydney Morning Herald and Melbourne Age today – commissioned by Parents and Friends of Lesbians and Gays (PFLAG), Rainbow Families and new LGBTIQ advocacy group just.equal.
National spokesperson for PFLAG Sharyn Faulkner says Australia's LGBTIQ leaders are united in their opposition to a plebiscite.
"This reflects the views of everyday LGBTIQ Australians who overwhelmingly oppose a plebiscite under any circumstances according to a recent survey that was the largest of its kind ever conducted,"Faulkner said.
"We call on the Senate, and particularly the Labor Party, to listen to the LGBTI community and vote against a plebiscite."
Ivan Hinton-Teoh, spokesperson for just.equal, said the LGBTIQ community is not opposed to a plebiscite for fear of losing the poll, but rather what could be lost in the process.
"We ask parliamentarians from all parties to work together for a free vote in parliament," Hinton-Teoh said.
"In Parliament robust debate can occur in a way that does not divide families and communities, and does not harm LGBTIQ Australians.
"Marriage equality can be considered, debated and achieved within this term. The government should work with the opposition and cross benchers to make it so."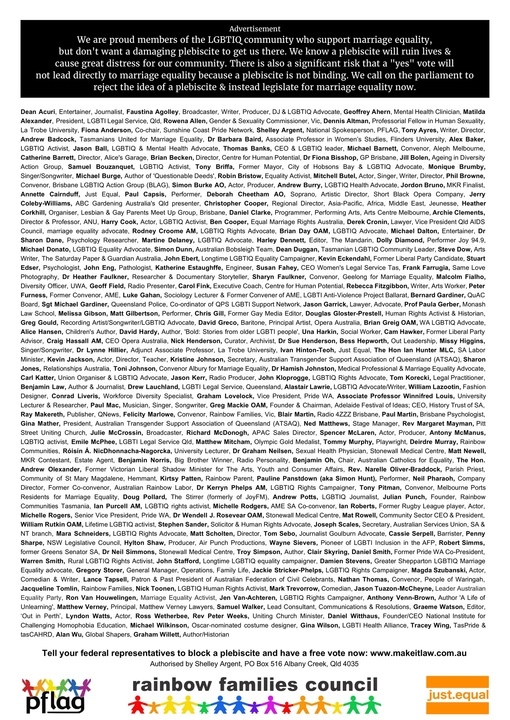 OIP Staff
Graeme Watson of OUTinPerth is a signatory of the aforementioned declaration.