Little Death Club is the darkest, funniest Kabarett this side of Berlin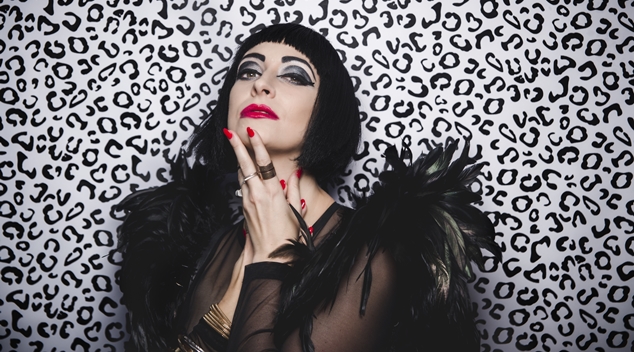 The darkest, funniest and most debauched Kabarett club this side of Berlin is returning to Perth.
Little Death Club is hosted by the deliciously salacious, utterly hilarious, uber-award-winning Queen of Weimar 'punk Kabarett', Bernie Dieter, who gave us the inside word on what her team of misfits will be bringing to Fringe World 2019. Bernie chatted to us on the phone and we became enthralled with her heavily-accented voice.
What's the sign that lets you know a show is going to be a serious party?
Oh darling, when I'm there it's always a good party. As long as there's gin. Also the people of Perth are always up for a good time, what can I say – you guys are amazing, you love the filth. Every night in Perth is going to be a party.
Who are we going to meet in the show this year?
We have a beautiful collection of punks, freaks and weirdos. We have our gorgeous seven foot glam monster Gingzilla, she's a seven foot drag queen who is absolutely phenomenal. We have gender-bending contortion Mister Beau Sargent – the things he can do with his body are going to blow your freaking mind. I watch it every night, just in awe, he's absolutely beautiful. We have some neo-burlesque from the gorgeous, but also strangely grotesque, Lolo Brow. She's come from London and she's a sideshow fire breathing absolute powerhouse of a woman. Plus we have the gorgeous psycho-siren Leah Shelton, who is known for her black comedy, dark and twisted, often naked performances. It's going to be quite a party.
Have you come across the concept of Fringe Bingo?
No, what is that?
You create a bingo game with categories twenty five like 'saw at least three nipples', 'saw fire breathing' and 'got invited on stage', and you cross them off at each show.
You'll definitely yell bingo at our show, we'll fill your whole card!
Do you have surprise guests in the show?
Not anymore. This show started in Perth at Fringe World as our late night debauched lock-in, and since then we've taken it around the world. We took it to Edinburgh, and it's become our glorious headline show. We've really transformed it into a set cast, cabaret club style out of the dark depths of Berlin. It's Winmar punk, it's modern but it also has a really beautiful hark back to that satirical political comedy.
So now we have a brand new late-night show which features the best-of-the-best, whoever is in town, coming to do their funniest and filthiest material with us, late nights on the weekends. Now we have the best of both worlds.
We often think of international shows of visiting Perth, we don't think of them beginning life here.
Yes it all began in Perth, it was born in the Spiegeltent in the Pleasure Garden and we thought we like this spirit of this real punk cabaret where we push people to where they feel uncomfortable, but also laughing hysterically, stroking each other thighs, breaking down those barriers. We're all glued to tiny little phone screens and we need to get out and make connections. We take that energy and put it into a glorious feature show, because we it shouldn't be confined to the late night, it needs to be exposed to the prime time at 8pm.
What is it about the city of Berlin that allows it to be a source of inspiration?
For me, it my heritage. My Oma, my Grandma – her family owned a circus in Germany just before the war, and she was part of the whole carny life. She had to flee from East Germany to West Germany in a circus caravan, hiding under piles of sequined costumes.
It's that history of the really tumultuous time that inspired people to use cabaret to say something. There's lots of dark things going on now, it's a time when we have things to say. That makes cabaret really relevant now with all stuff that's going on with Trump and of these right wing movements. People are being told that difference is something to be afraid of, but we need to celebrate it. That's what we're trying to do, in a completely non-preachy, fun, great night out, kind of way.
This year you're going to be performing in a new space for our city – Yagan Square.
Yes, I know, you've finally finished! Every year that we've been coming to Perth they've been building that space it's taken forever. I'm so excited, I think it's going to be a really exciting new hub. We can't wait to be there!
Little Death Club is at Fringe World from 18 January – 2nd February. Get tickets at fringeworld.com.au
Graeme Watson